Resumes for the Health Care Professional, 2nd Edition
ISBN: 978-0-471-38073-3
224 pages
April 2000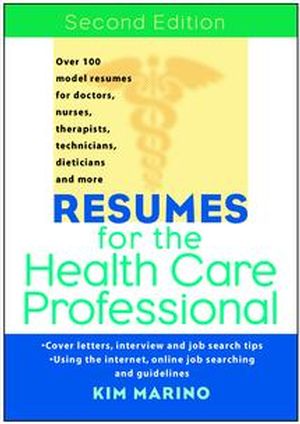 Over 100 model resumes for doctors, nurses, therapists, technicians, dieticians, and more
* Cover letter, interview, and job search tips
* Using the Internet, online job searching and guidelines


Create an impressive, winning resume with the bestselling guide to getting a better job in America s fastest-growing and fastest-changing profession

With new technology, managed care, and other developments, the health care profession today is the scene of astonishing change: new jobs are being created, new skills are needed, and job responsibilities are being redefined and expanded. For almost a decade, Resumes for the Health Care Professional has been the relied-upon resource for professionals in health care. Now it has been newly updated to help you take advantage of the opportunities and prepare for the challenges of finding the right job in the new competitive health care industry.

Featuring a no-nonsense, proven approach, plus valuable inside tips and tricks expressly for the health care industry, Resumes for the Health Care Professional provides:
* Examples culled from the author s vast bank of health care resumes, including egistered nurses, technologists, technicians, therapists, social workers, and more
* Cover letter and thank you samples
* Special coverage of new job trends in the health care industry and how to take advantage of them
* Tips on writing the most effective electronic resume
* Lists of popular Internet career centers and Web sites for health care professionals
* Job titles and descriptions of key health care professions, including health assessment and treating occupations; and service, technologist, technician, and diagnosing positions
See More
The Professional Resume.

The No-Nonsense Approach to Resume Writing.

Health Care Professionals Returning to the Workforce.

Changing Careers or Moving Up in the Health Care Profession.

Resumes for the Health Care Student and Recent Graduate.

The Cover Letter and Thank You Letter.

The Electronic Resume.

Job Trends in Health Care: The New Millennuim.

Effective Job Search Techniques for a Health Care Position.

Preparing for the Interview in the Health Care Profession.

List of Health Care and Medical Associations and Publications.

Resume Samples from More than 100 Health Care Professionals.

Index to Resume Samples by Profession.
See More
KIM MARINO is a corporate trainer for Drake Beam Morin (DBM) and the founder of Just Resumes resume service. She is the author of such successful books as Just Resumes: 200 Powerful and Proven Successful Resumes to Get That Job and Best Resumes for Accountants and Financial Professionals (both from Wiley), as well as The College Student's Resume Guide and The Resume Guide for Women of the 90s.
See More