What to Eat When You Get Diabetes: Easy and Appetizing Ways to Make Healthful Changes in Your Diet
ISBN: 978-0-471-38139-6
256 pages
June 2000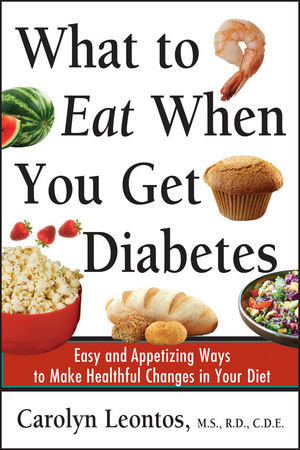 "Practical and on-target advice."-Marion J. Franz, M.S., R.D., C.D.E."Practical nutrition information with powerful health implications. . . . Carolyn Leontos takes readers by the hand and leads them step by step toward the goal of good blood glucose control."-Patti Geil, M.S., R.D., F.A.D.A., C.D.E. From the moment you or a loved one is diagnosed with diabetes, immediate changes must be incorporated into your diet because what you eat-and how you prepare what you eat-has a great impact on the progression of the disease. What to Eat When You Get Diabetes begins from that very first moment of diagnosis, acquainting you with the types of foods and meal plans ideal for people with diabetes. But as Carolyn Leontos explains, you don't have to give up your favorite foods to control-or prevent-diabetes. In this practical and reassuring resource, Leontos shows you that a diet for people with diabetes can be filled with satisfying, delicious dishes. Drawing on her extensive experience as a registered dietitian and certified diabetes educator, she combines satisfying menu suggestions, sample meal plans and recipes, and ideas on how to modify your favorite recipes with the personal stories of people living healthily with diabetes. She also addresses such confusing issues as weight loss, meal plans, calories, portion sizes, eating in restaurants, vitamins, and effectively balancing food and medication. You will discover:
* Why you don't have to give up your favorite foods
* The truth about saturated, polyunsaturated, and monounsaturated fats-and trans fatty acids
* What constitutes a balanced meal
* What to order in restaurants
* Why fat is important-and why you shouldn't eliminate it from your diet


What to Eat When You Get Diabetes takes the mystery out of good nutrition-and shows you how healthy eating can help you achieve lifelong wellness.
See More
Foreword vii
Acknowledgments ix
Introduction 1
Chapter 1 The Basics of Eating with Diabetes 3
Chapter 2 What You Need to Know about Weight Loss 19
Chapter 3 Understanding the Food Pyramid Plan 41
Chapter 4 Learning that Calories do Count! 57
Chapter 5 Watch Out for Portion Sizes 75
Chapter 6 Sugar and Carbohydrates: Not Forbidden Foods 87
Chapter 7 Figuring Fat: Which Kinds and How Much to Eat 103
Chapter 8 Read Labels 123
Chapter 9 Don't Give Up Your Comfort Food 139
Chapter 10 Eating out Healthfully 155
Chapter 11 Eat Your Vitamins and Other Helpful Substances 169
Chapter 12 Balancing Food and Medication 181
Chapter 13 Finding a Dietitian 201
Chapter 14 Can you "Live" with Diabetes? 207
Appendix
Diabetes Cookbooks 215
Suggested Reading 219
Helpful Organizations 223
Useful Web Sites 227
Index 229
See More
CAROLYN LEONTOS, M.S., R.D., C.D.E., is a registered dietitian and a certified diabetes educator who has been counseling people on their diets and health for almost 30 years. A tenured associate professor of nutrition at the University of Nevada, Las Vegas, she is well published in professional journals for diabetes and nutrition.
See More