Human Embryology & Teratology, 3rd Edition
ISBN: 978-0-471-38225-6
520 pages
May 2001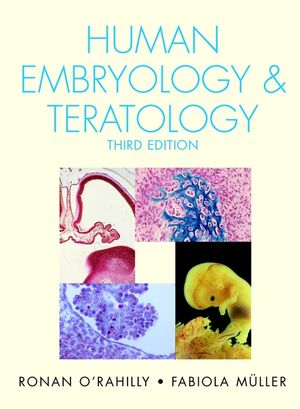 In the years since its first publication, O'Rahilly and Muller's Human Embryology and Teratology has been widely praised as an exceptional reference on normal and abnormal human prenatal development. This revised and expanded Third Edition offers more in-depth coverage of the central topics in human embryology and incorporates the latest data from ongoing embryological investigations.
Authored by two of the world's foremost authorities on the human embryo, this new edition provides a comprehensive overview of general and systemic development, referring throughout to the internationally accepted Carnegie system of embryonic staging. Extensively illustrated, the book features nearly 400 figures, including detailed, color-enhanced line drawings that clarify the developmental processes of every major organ and system. Useful recommendations for additional reading are listed at the end of each chapter.
The Third Edition has been thoroughly revised and updated to include:
* Elaboration of the nervous system to conform to the second edition of the authors' The Embryonic Human Brain
* Reorganization of the chapters on the heart and eye, and clarification of the liver, vertebrae, and neuroteratology
* Expanded tables explaining the initial appearance of features in each body system
* Further indications of precise embryonic stages
* 35 new drawings and 27 new photomicrographs in color
* Numerous new references
* Updated terminology, standardized according to the accepted usage
The undisputed authority on human embryology and embryonic abnormalities, Human Embryology and Teratology, Third Edition belongs in the library of every physician, biologist, student, and research scientist whose research is concerned with human anatomical development. Its authoritative, concise, and thoroughly illustrated presentation also makes it an ideal reference for practitioners in all medical and surgical subspecialties.
See More
Preface.
General List of Abbreviations.
GENERAL HUMAN EMBRYOLOGY AND TERATOLOGY.
The History of Human Embryology and Teratology.
Introduction and General Concepts.
Gametogenesis, Ovulation, and Fertilization.
Week 1 (Stages 2-4): Morula;
Blastocyst.
Weeks 1-21/2 (Stages 5 and 6): Implantation;
Primitive Streak;
Twinning.
Weeks 21/2-4 (Stages 7-10): Somites;
Neural Folds;
Organogenesis.
The Placenta and Development Adnexa.
Stages, Age, Measurements, Growth, and External Form including the Face.
Teratology and Prenatal Diagnosis.
The Primary Tissues.
SYSTEMIC HUMAN EMBRYOLOGY AND TERATOLOGY.
The Integumentary System.
The Cardiovascular and Lymphatic Systems.
The Digestive System.
The Respiratory System.
The Urinary System.
The Reproductive System.
The Endocrine System.
The Skeletal System and the Limbs.
The Nervous System.
The Eye.
The Ear.
Appendix 1: Glossary of Eponymous Terms.
Appendix 2: Tables of Measurements.
Index.
Index.
See More