Power of Performance Management: How Leading Companies Create Sustained Value
ISBN: 978-0-471-38347-5
352 pages
January 2001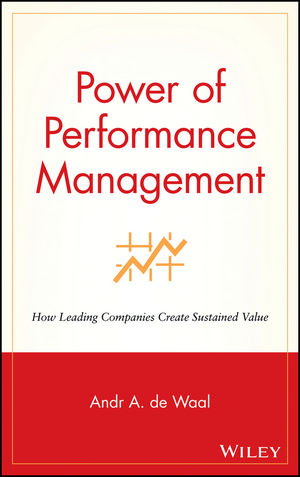 A groundbreaking new approach to creating and delivering world-class shareholder value
Creating the right performance management framework is the key to delivering sustained, world-class value. Under increasing pressure from shareholders to create sustained wealth, CFOs, CEOs, and controllers are desperate for new business planning methods that will help them meet constantly growing expectations. This book provides the framework for developing a strategic plan to develop world-class performance management capabilities. Numerous case studies and best practice examples help identify the key issues companies face in their drive to deliver and create value as well as the new role management must play in order to maximize performance management capabilities. The book also explores the various information technologies that support performance management.
See More
Introduction.

Challenges for Performance Management in the New Economy.

Establish a Consistent Responsibility Structure.

Balance Long-Term and Short Term Focus.

Make Value-Based Strategies Operational.

Embrace Information Transparency.

Focus on What Is Truly Important.

Enforce Performance-Driven Behavior.

Balance Integration with Simplification.

Implementing the Ideas.

Appendix: Management Information and Reporting Analysis.

Index.
See More
ANDRé A. de WAAL is a partner with Arthur Andersen Consulting, the Netherlands. He has degrees in chemistry and business administration and is certified in pro-duction and inventory management. As a consultant, he has focused on projects including the selection and implemen-tation of production, logistic and financial software packages, cost analyses, and designing logistic concepts and information technology infrastructures. He most recently worked on a benchmark study for a Dutch multinational performed in Japan, Germany, and the United States. Mr. de Waal has published over twenty articles and five books on the topic of performance management.
See More