The Wiley Book of Business Quotations
ISBN: 978-0-471-38447-2
430 pages
March 2000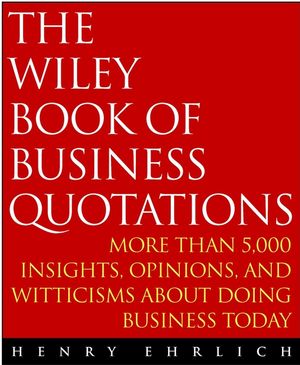 "Instructive, well-organized . . . . The Wiley Book of Business Quotations is a worthy addition to your business bookshelf"-USA Today
"This [is] a great book for speechwriters as well as writers . . . appealing to anyone interested in business-or, for that matter, life-as it is practiced today."-Houston Chronicle
This groundbreaking book contains the most provocative, illuminating, and humorous comments about business today.
ON COMPETITION . . .
"I don't like my competitors. I don't eat with them, don't do anything with them except try to waste them."-Hugh McColl Jr., CEO of NationsBank
ON MANAGEMENT . . .
"One's objective should be to get it right, get it out, and get it over. You see, your problem won't improve with age."-Warren Buffett, CEO of Berkshire Hathaway
ON LANGUAGE . . .
"George Orwell once blamed the demise of the English language on politics. It's quite possible he never read a prospectus."-Arthur Levitt Jr., Chairman of the U.S. Securities and Exchange Commission
With more than 5,000 quotations drawn largely from the press and from speeches, this comprehensive reference brings you the unique perspectives of today's business leaders. Inside, you'll find the words of such titans as Warren Buffett, Bill Gates, Percy Barnevik, George Soros, Jurgen Schrempp, Michael Eisner, and Jack Welch, as well as hundreds of others who have helped shape the business world over the past two decades. Thoroughly indexed by names and companies, this book is an indispensable resource for business people, writers, politicians, public speakers, and anyone who wants to make sense of today's business world.
See More
Acknowledgments

Introduction

1. Advertising and Marketing

2. The Americas

3. Asia

4. Banking and Insurance

5. Business-Friendly Geography

6. Business Miscellany

7. Competition

8. Corporate Culture

9. Corporations

10. Customers

11. Directors

12. Diversity and Sexual Issues

13. The Economy

14. Education

15. Entrepreneurship

16. Ethics and Values

17. Europe

18. Europe-Western

19. European Community

20. Executives

21. Executive Diversions

22. Facing the Future

23. Finance

24. The Former Soviet Bloc

...

33. Markets and Trade

34. The Middle East and Africa

35. Money

36. The Professionals

37. Public Affairs

38. Public Interest Issues

39. Reengineering

40. The Roaring Eighties

41. Success

42. Wall Street

43. Words of Wisdom

44. Work

Index of Names

Index of Organizations
See More
HENRY EHRLICH is a professional speechwriter whose clients include some of the world's foremost financial, manufacturing, and entertainment companies.
See More