Textbook
Engineering and Chemical Thermodynamics
ISBN: 978-0-471-38586-8
580 pages
November 2003, ©2004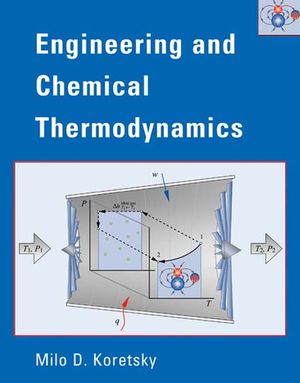 Specifically designed to accommodate students with different learning styles, this conceptually based text gives students a solid foundation in engineering and chemical thermodynamics. Conceptual development, worked-out examples and numerous end-of-chapter problems promote deep learning of thermodynamics and teach students how to apply thermodynamics to real-world engineering problems.
The text features a logically consistent development where each new concept is introduced in the context of a framework laid down previously. The text's treatment of the solid phase, including solid-solid-liquid phase diagrams and defect equilibrium, provides content that is becoming increasingly important to chemical engineering graduates. Other coverage includes applications of the first and second laws of thermodynamics, intermolecular interactions and equations of state, thermodynamic property relations, the thermodynamics of mixtures, phase equilibrium and chemical reaction equilibrium.
See More
Chapter 1. Measured Thermodynamic Properties and Other Basic Concepts.
Chapter 2. The First Law of Thermodynamics.
Chapter 3. Entropy and the Second Law of Thermodynamic.
Chapter 4. Equations of State and Intermolecular Forces.
Chapter 5. The Thermodynamic Web.
Chapter 6. Phase Equilibria I: Problem Formulation.
Chapter 7. Phase Equilibria II: Fugacity.
Chapter 8. Phase Equilibria III: Phase Diagrams.
Chapter 9. Chemical Reaction Equilibria.
Appendix A: Physical Property Data.
Appendix B: Steam Tables.
Appendix C: Lee-Kesler Generalized Correlation Tables.
Appendix D: Unit Systems.
Appendix E: ThermoSolver Software.
Appendix F: References.
Index.
See More
Addresses different student learning styles:

Learning objectives and chapter summaries identify and reinforce significant concepts.
Key concepts presented schematically assist visual learners.
Questions about key points throughout the text aid active and reflective learners.
Worked examples offer a balance of concrete, numerical problem solving for sensing learners and those that extend conceptual understanding for intuitive learners.

Integrates molecular concepts with thermodynamic principles: This molecular approach reinforces the text's intuitive approach providing more access to the typical undergraduate student than could a mathematical derivation alone.
Includes menu-driven, easy-to-use ThermoSolver software: Designed to complement the text, ThermoSolver relieves the student from performing tedious computations allowing them to focus on learning thermodynamic principles. Students are better able to connect concepts to the software output, reinforcing learning.
Reinforces learning with integrative end-of-chapter problems: Many of these problems require the student to integrate more than one concept and to apply information in new ways encouraging the development of conceptual understanding and the ability to synthesize material previously learned.
See More