Textbook
Child and Adolescent Therapy: Science and Art
ISBN: 978-0-471-38637-7
624 pages
October 2005, ©2006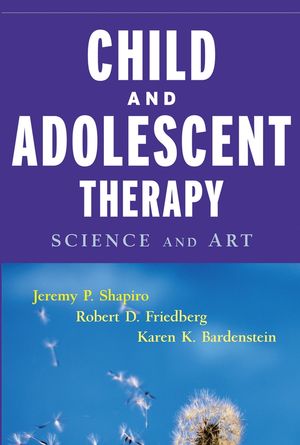 This comprehensive guide to child therapy provides a thorough introduction to the principles and practice of psychotherapy with children and adolescents. It provides balanced coverage of child therapy theory, research, and practice. Adopting an integrated approach, the authors bring both the science of evidence-based practice and the art of therapy into each chapter.
See More
Preface: The Therapist's Challenge xi
Acknowledgments xiii
PART I: THE TOOLS OF THE THERAPIST
1 Therapy Fundamentals 3
The Therapeutic Orientation toward Clients 4
Getting Started 8
Basic Child Therapy Skills 15
Helping Clients Open Up 21
Therapeutic Collaborations 31
Collaborating with Other Child-Serving Systems 34
Termination 35
2 Behavior Therapy 40
Learning Theory 41
Assessment and Case Formulation 47
Change Processes 51
Outcome Research 53
The Therapist's Style 55
Relaxation Training 56
Systematic Desensitization 57
Contingency Contracting 59
Social Skills Training 66
3 Cognitive Therapy 71
Cognitive Theory 72
Assessment and Case Formulation 76
Change Processes 80
Outcome Research 81
The Therapist's Style 83
Self-Monitoring 86
Self-Instruction 88
Self-Reinforcement 89
Cognitive Restructuring 90
Socratic Questioning 93
Tests of Evidence 95
Naming Cognitive Distortions 97
Personal Experiments 98
4 Psychodynamic Therapy 101
Psychoanalytic Theory 102
Assessment and Case Formulation 113
Change Processes 117
Outcome Research 121
The Therapist's Style 123
Facilitating the Expression of Material 123
Interpretation and Insight 124
Life Education 127
Corrective Emotional Experience 131
5 Constructivism: Solution-Oriented and Narrative Therapy 135
Postmodernism and the Social Construction of Reality 136
Assessment and Case Formulation 141
Change Processes 143
Outcome Research 148
The Therapist's Style 149
Solution-Oriented Therapy Techniques 150
Narrative Therapy Techniques 158
6 Family Systems Therapy 167
Systems Theory 168
Assessment and Case Formulation 176
Change Processes 181
Outcome Research 185
The Therapist's Style 186
Combining Family and Individual Modalities 187
Facilitating Communication 187
Psychoeducation 190
Systemic Insight 191
Reframing 192
Treating Enmeshment and Disengagement 195
Therapist Directives 196
Treating Negative Feedback Loops 198
Treating Positive Feedback Loops 199
Extended Family and Multigenerational Therapy 202
7 Atheoretical and Transtheoretical Techniques 205
Miscellaneous Techniques 206
Parent Counseling 210
Providing Information and Direction to Clients 212
Meeting the Client Halfway 222
Incorporating Experiences into New Structures of Meaning 228
PART II: THE NEEDS OF CLIENTS
8 Outcome Research and Clinical Reasoning in Treatment Planning 245
The Controversy: How Should Counselors Plan Therapy? 245
The Case for Outcome Research 246
What the Research Says 249
Mediators and Moderators of Treatment Effects 255
The Limitations of Outcome Research 257
What the Research Does Not Say 259
Bridging the Gap between Research and Practice 263
When to Consider Techniques without Strong Empirical Support 272
9 Cultural Factors in Therapy 277
The Role of Culture in Psychotherapy 278
Assessment and Case Formulation 289
The Therapist's Style 295
Connecting the Cultures of Therapy and Client 296
Conflicts between Client Cultures and the Predominant Culture 299
Addressing Prejudice and Discrimination 300
Culturally Specific Adaptations of Therapeutic Approaches 301
Bringing Spirituality into Therapy 302
10 Disruptive Behavior Disorders in Children 307
Diagnoses Treated in This Chapter 308
Clinical Presentation and Etiology 308
Assessment 312
Treatment Planning 316
Behavioral-Systemic Parent Training 319
The Collaborative Problem Solving Approach 331
Cognitive-Behavioral Therapy with the Child 334
Psychodynamic Therapy 337
11 Disruptive Behavior Disorders in Adolescents 341
Diagnoses Treated in This Chapter 342
Clinical Presentation and Etiology 342
Assessment 347
Treatment Planning 348
Behavioral-Systemic Therapy 351
Substance Abuse 368
Psychodynamic Therapy 368
Parent Counseling 371
12 Aggression and Violence 375
Diagnoses Treated in This Chapter 376
Clinical Presentation and Etiology 376
Assessment 382
Treatment Planning 384
Interventions Addressing Attitudes, Values, and Motivation 386
Cognitive-Behavioral Therapy 390
Psychodynamic Therapy 403
Systems-Oriented Intervention 404
13 Anxiety 407
Diagnoses Treated in This Chapter 408
Clinical Presentation and Etiology 409
Assessment 415
Treatment Planning 416
Cognitive-Behavioral Therapy 420
Psychodynamic Therapy 432
Family Therapy and Parent Counseling 438
Summary 440
14 Depression 443
Diagnoses Treated in This Chapter 444
Clinical Presentation and Etiology 445
Assessment 451
Treatment Planning 452
Special Topic: Suicide Risk 456
Cognitive-Behavioral Therapy 459
Psychodynamic Therapy 468
Family Therapy and Parent Counseling 472
Interpersonal Therapy 473
15 Stress and Trauma 477
Diagnoses Treated in This Chapter 478
Clinical Presentation and Etiology 478
Coping with Stress and Trauma 483
Assessment 486
Treatment Planning 489
Cognitive-Behavioral Therapy 491
Psychodynamic Therapy 498
Constructivist Therapy 498
Systems-Oriented Intervention 499
Therapy for Parental Divorce 500
Therapy for Bereavement 504
Therapy for Sexual Abuse 506
Summary 511
Afterword: The Therapist's Experience 515
References 519
Author Index 583
Subject Index 599
See More
JEREMY P. SHAPIRO
, PhD, is a clinical child psychologist and an adjunct faculty member in the Psychology Department and Mandel School of Applied Social Sciences at Case Western Reserve University, where he teaches courses in child and adolescent psychology, assessment, and therapy. Dr. Shapiro's research focuses on psychotherapy processes and outcomes and treatment of aggression. He has published numerous articles and presented many professional workshops on these topics, and his violence prevention program, called Peacemakers, has been recognized by the U.S. Department of Education.
ROBERT D. FRIEDBERG, PhD, ABPP, is an Associate Professor and Director of the Postdoctoral Fellowship programs at Penn State Milton Hershey Medical Center/Penn State College of Medicine. Dr. Friedberg is board certified in cognitive and behavior therapy, a Founding Fellow in the Academy of Cognitive Therapy, and a recent Extramural Scholar at the Beck Institute for Cognitive Therapy and Research. He has published four other books including Clinical Practice of Cognitive Therapy with Children and Adolescents (with J. McClure).
KAREN K. BARDENSTEIN, PhD, received her doctorate from the University of Michigan. She is a Clinical Instructor in the Departments of Psychology and Psychiatry at Case Western Reserve University. She has coauthored a book on personality disorders in children and adolescents. Her practice specializes in childhood disorders, personality assessment, divorce, and custody issues, as well as psychotherapy for adults and couples.
See More
Presents current best practices and empirically supported approaches.

•       Combines theoretical grounding with practical instruction in how to conduct child therapy, including many specific examples of what to say, who to say it to, and when to say it.

•       Covers the child therapy field comprehensively and clearly, with chapters focusing on the major approaches, common diagnostic categories, and therapeutic interventions associated with each approach.

•       Combines careful consideration of outcome research with clinical considerations to help create better treatment plans for individual clients.
See More
"This excellent compilation of the fundamentals of the various forms of psychotherapy attempts to bridge the gap between the available research evidence and the art of practicing therapy to help provide evidence-based, client-oriented therapy. To sum up, this book on child and adolescent therapy fulfills what it promises: 'intellectual rigor and practical application as equal and complementary objectives.'" (
Journal of the American Academy of Child and Adolescent Psychiatry
, March 2007)
"I was thoroughly impressed ... provides a good insight to the rationales and indications for different therapies for different child mental health presentations." (Community Care, July 2006)
This comprehensive text would prove beneficial to both newly qualified and highly experienced therapists, challenging the reader to think beyond their dominant therapeutic paradigm.... For new therapists, an excellent feature is the use of text boxes which provide examples of the language therapists can use when applying each technique, thus enabling new therapists to borrow the language of those more experienced until they have the opportunity to find their own style and therapeutic language....
A particular strength of the book is that it takes a presenting problem and provides the reader with information about how this problem could be addressed using a range of theoretical orientations and techniques.
I have found this book to be a useful not only in reinforcing and consolidating my existing knowledge and therapeutic techniques, but also in encouraging me to think about how I could address presenting problems using techniques from a range of other theoretical orientations. This book would make a very welcome and valuable addition to the bookshelf of any psychologist who works in a therapeutic context with children and adolescents."-- Melissa Oxlad, Associate Editor (Scientist-Practitioner.Com - online journal)
See More
Learn more about