Heat Transfer Handbook
ISBN: 978-0-471-39015-2
1496 pages
June 2003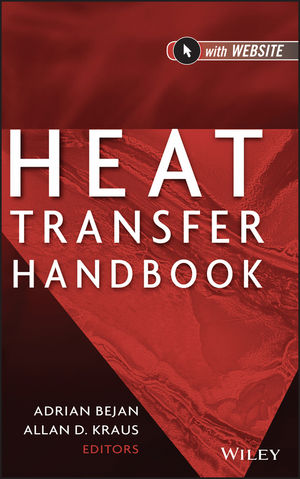 Chapters contributed by thirty world-renown experts.
Covers all aspects of heat transfer, including micro-scale and heat transfer in electronic equipment.
An associated Web site offers computer formulations on thermophysical properties that provide the most up-to-date values.
See More
Preface.
Contributors.
1. Basic Concepts (Allan D. Kraus).
2. Thermophysical Properties of Fluids and Materials (R. T Jacobsen, E. W. Lemmon, S. G. Penoncello, Z. Shan, and N. T. Wright).
3. Conduction Heat Transfer (A. Aziz).
4. Thermal Spreading and Contact Resistances (M. M. Yovanovich and E. E. Marotta).
5. Forced Convection: Internal Flows (Adrian Bejan).
6. Forced Convection: External Flows (Yogendra Joshi and Wataru Nakayama).
7. Natural Convection (Yogesh Jaluria).
8. Thermal Radiation (Michael F. Modest).
9. Boiling (John R. Thome).
10. Condensation (M. A. Kedzierski, J. C. Chato, and T. J. Rabas).
11. Heat Exchangers (Allan D. Kraus).
12. Experimental Methods (José L. Lage).
13. Heat Transfer in Electronic Equipment (Avram Bar-Cohen, Abhay A. Watwe, and Ravi S. Prasher).
14. Heat Transfer Enhancement (R. M. Manglik).
15. Porous Media (Adrian Bejan).
16. Heat Pipes (Jay M. Ochterbeck).
17. Heat Transfer in Manufacturing and Materials Processing (Richard N. Smith, C. Haris Doumanidis, and Ranga Pitchumani).
18. Microscale Heat Transfer (Andrew N. Smith and Pamela M. Norris).
19. Direct Contact Heat Transfer (Robert F. Boehm).
Author Index.
Subject Index.
About the CD-ROM.
See More
ADRIAN BEJAN is the J. A. Jones Professor of Mechanical Engineering at Duke University in Durham, North Carolina.
ALLAN D. KRAUS is a retired professor and practicing consulting engineer in Beechwood, Ohio. He is a frequent adjunct to the engineering faculty at The University of Akron in Ohio.
See More