Handbook of Optical Components and Engineering
ISBN: 978-0-471-39055-8
Hardcover
1400 pages
October 2003
US $408.00

Add to Cart
This price is valid for United States. Change location to view local pricing and availability.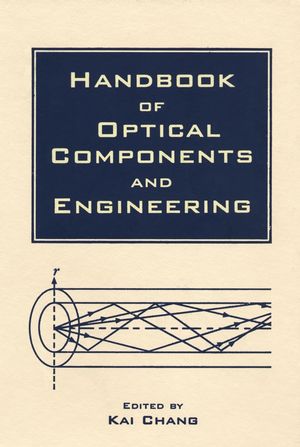 Preface.
Contributors.
1. Optical Wave Propagation (A. Chan).
2. Infrared Techniques (A. Jha & P. Kupferman).
3. Optical Lenses (J. Rogers).
4. Optical Resonators (K. Iga).
5. Spatial Filters and Fourier Optics (F. Yu).
6. Semiconductor Lasers (J. Yang & B. Liang).
7. Solid-State Lasers (J. McMahon).
8. Liquid Lasers (B. Wilhelmi, et al.).
9. Gas Lasers (T. Lehecka, et al.).
10. Optical Fiber Transmission Technology (C. Lin).
11. Optical Channel Waveguides and Waveguide Couplers (T. Findakly).
12. Planar Waveguide and Waveguide and Applications (S. Yao).
13. Optical Attenuatiors, Isolators, Circulators, and Polarizers (F. Zhou & J. Pan).
14. Optical Filters for Telecommunication Applications (C. Madsen).
15. Wavelength Division Multiplexers and Demultiplexers (J. Capmany & S. Sales).
16. Wide-Bandwidth Optical Intensity Modulators (G. Li & P. Yu).
17. Optical Modulation: Acousto-Optical Devices (C. Tsai).
18. Optical Modulation: Magneto-Optical Devices (A. Craig).
19. Optical Detectors (P. Yu & H. Law).
20. Acousto-Optical Modulators and Switches (S. Yao).
21. Optical Amplifiers (C. Su).
Index.