Textbook
Research and Evaluation for Business
ISBN: 978-0-471-39088-6
896 pages
May 2000, ©2000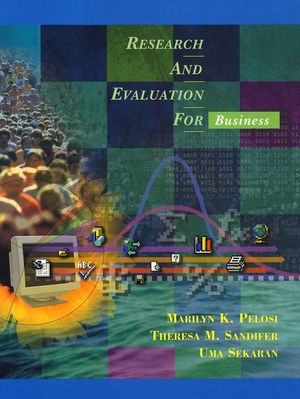 Access the instructor resources for this title by using the menu on the left.
See More
* The Language of Statistics
* Graphical Displays of Data
* Numerical Descriptors
* Probability
* Sampling Distributions and Confidence Intervals
* Hypothesis Testing: An Introduction
* Inferences: One Population
* Inferences: Two Populations
* ANOVA and Experimental Design
* Simple Linear Regression and Correlation
* Time Series Analysis
* The Analysis of Qualitative Data
See More
This is the first text to teach, at the introductory level, the tactical details underlying statistical thinking, management of decision making for tool selection, assumptions management, and outcome interpretation. The authors integrate decision making within the exposition, examples and exercises.
Excel sections following each chapter, contain spreadsheet output and step-by-step command instruction.
Innovative Activity-based Learning features in each chapter provide practical problem solving experience using decision making tools.
Try It Now! Exercises are checkpoints embedded throughout each section to ensure that the student understands the material before moving on.
Discovery Exercises appear in most chapters and can be assigned as group projects during class or as homework. The Discovery Exercises often require students to write a memo or a short business report.
Most chapters begin with motivating examples based on real world data, that is then threaded throughout the chapter and to a lesser extent throughout the book. Much of the data are based on the authors' consulting experiences.
A conversational atmosphere carries the context-based data, inference and decision-making themes throughout the text.
See More