Beyond Coso: Internal Control to Enhance Corporate Governance
ISBN: 978-0-471-39112-8
352 pages
October 2000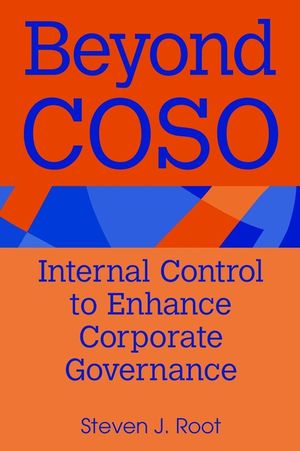 The authoritative, practical guide to internal control after COSO (Committee on Sponsoring Organizations of the Treadway Commission)

Beyond COSO unravels the complexities of the COSO Report while providing clear-cut guidelines on how to implement the various internal controls it mandates. Just as important, it builds on the COSO framework to provide a more rigorous system that corporate executives and directors can use to transform the internal control function into a valuable strategic tool for leveraging corporate strengths and improving performance.

The first practical guide to complying with COSO Report mandates, Beyond COSO:
* Clearly explains the intricacies of the COSO Report
* Describes proven techniques for complying with COSO requirements
* Provides a detailed account of the internal control oversight process
* Offers expert recommendations on how to carry out internal control responsibilities more efficiently
* Supplies a wealth of ready-to-use internal control documentation


Beyond COSO is an invaluable working resource for internal and external auditors, CFOs, members of audit committees, and corporate directors.

www.wiley.com/accounting
See More
Overview.

Internal Control Conceptual Perspective.

Historical Context.

Business Ethics and Values.

The COSO Framework.

Beyond COSO: Other Frameworks.

Internal Control: A Management Approach.

Internal Control Oversight Process.

Internal Control Oversight Issues.

Internal Control Reporting.

Appendices.

Index.
See More
STEVEN J. ROOT was the Director of Finance, Administration, and Processes at Northrop Grumman Corporation. As Northrop Grumman's Chief Internal Audit Executive from 1981 to 1995, he was in charge of directing, planning, and coordinating all internal auditing activities within the company. Before joining Northrop Grumman in 1976, he was a practicing certified public accountant with Coopers & Lybrand. Mr. Root currently chairs the Professional Development Committee for the Los Angeles chapter of the Financial Executives Institute. He also serves as a member of the board of trustees for the Los Angeles chapter of the Institute of Internal Auditors. He is a past member of the Internal Auditing Standards Board and past president of the Los Angeles chapter of the IIA. Mr. Root is also the author of the Internal Auditing Manual.
See More