An Introduction to Molecular Medicine and Gene Therapy
ISBN: 978-0-471-39188-3
420 pages
October 2000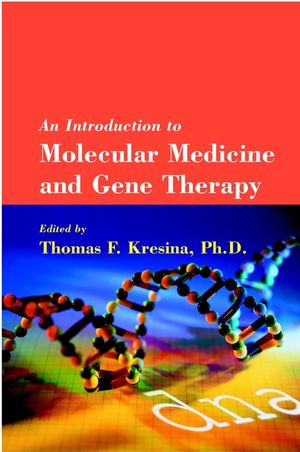 Gene therapy, or the use of genetic manipulation for disease treatment, is derived from advances in genetics, molecular biology, clinical medicine, and human genomics. Molecular medicine, the application of molecular biological techniques to disease treatment and diagnosis, is derived from the development of human organ transplantation, pharmacotherapy, and elucidation of the human genome. An
Introduction to Molecular Medicine and Gene Therapy
provides a basis for interpreting new clinical and basic research findings in the areas of cloning, gene transfer, and targeting; the applications of genetic medicine to clinical conditions; ethics and governmental regulations; and the burgeoning fields of genomics, biotechnology, and bioinformatics. By dividing the material into three sections - an introduction to basic science, a review of clinical applications, and a discussion of the evolving issues related to gene therapy and molecular medicine-this comprehensive manual describes the basic approaches to the broad range of actual and potential genetic-based therapies.
In addition, An Introduction to Molecular Medicine and Gene Therapy:
Covers new frontiers in gene therapy, animal models, vectors, gene targeting, and ethical/legal considerations
Provides organ-based reviews of current studies in gene therapy for monogenetic, multifactoral or polygenic disorders, and infectious diseases
Includes bold-faced terms, key concepts, summaries, and lists of helpful references by subject in each chapter
Contains appendices on commercial implications and a review of the history of gene therapy
This textbook offers a clear, concise writing style, drawing upon the expertise of the authors, all renowned researchers in their respective specialties of molecular medicine. Researchers in genetics and molecular medicine will all find An Introduction to Molecular Medicine and Gene Therapy to be an essential guide to the rapidly evolving field of gene therapy and its applications in molecular medicine.
See More
Preface xiii
Contributors xv
Chapter 1 Molecular Medicine and Gene Therapy: An Introduction 1
Thomas F. Kresina and Andrea D. Branch
Introduction 1
Genetic Manifestations of Molecular Medicine 2
Gene Therapy and Patterns of Gene Expression 7
Gene Therapy and Molecular Medicine 8
Gene Therapy: Current Basic Science Issues 15
Human Gene Therapy: Current Status and Basic Science Research Needs 17
Gene Therapies: Next Horizon 18
Key Concepts 20
Suggested Readings 22
Chapter 2 Nuclear Transplantation and New Frontiers in Genetic Molecular Medicine 25
D. Joseph Jerry and James Robl, with Ethics Note by Leonard M. Fleck
Background 25
Introduction 25
Nuclear Transplantation: A Tool in Developmental Biology 26
Technical Developments in Nuclear Transplantation 29
Defining the Limits of Nuclear Reprogramming in Mammals 32
Toward an Understanding of the Mechanisms of Genetic Reprogramming 34
Application of Genetic Reprogramming 38
Human Embroyonic Stem Cell Research: An Ethics Note 39
Summary 41
Key Concepts 41
Suggested Readings 42
Chapter 3 Builing a Better Mouse: Genetically Altered Mice as Models for Gene Therapy 47
Eric Sandgren and William C. Kisseberth
Background 47
Introduction 47
Producing Mouse Models of Human Disease 48
Mouse Models for Gene Therapy:What Makes a Good Model of Human Disease? 57
Models of Monogenic Disorders 58
Models of Polygenic and Multifactorial Disorders 62
Mouse Models of Molecular Therapeutics: Developing and Testing Gene Therapy Methodology 67
Generation of Chimeric Tissues 69
Human Cell Xenograft Models in Immunodeficient Mice 69
Mouse Models: The Next Generation 71
Key Concepts 72
Suggested Readings 74
Chapter 4 Vectors in Gene Therapy 77
Katherine Parker Ponder
Introduction 77
Viral Vectors Used for Gene Therapy 78
Retroviral Vectors 78
Adenoviral Vectors 91
Adenovirus-Associated Virus 97
Herpes Simplex Virus 1 102
Other Viral Vectors 105
Nonviral Vectors 105
Oligonucleotides 108
Key Concepts 110
Suggested Readings 111
Chapter 5 Gene Targeting 113
Eric B. Kmiec
Background and Challenges 113
Introduction of DNA into the Cell 114
Nonviral Transfer Vehicles 116
Gene Targeting 117
Recombinational and Repair Enzymes in Gene Targeting Efforts 119
Synthetic Oliogonucleotides as Tools for Targeting 120
Insertion of Fragments of DNA: Gene Disruption and Replacement 122
Gene Targeting Has Already Proven Useful 126
Gene Targeting: The Future 128
Key Concepts 129
Suggested Readings 129
Chapter 6 Gene Therapy for Hematological Disorders 133
Cynthia E. Dunbar and Tong Wu
Introduction 133
Requirements for Gene Transfer into Hematopoietic Cells 134
Hematopoietic Stem and Progenitor Cells as Targets for Gene Therapy 137
Lymphocyte Gene Transfer 145
Current Problems and Future Directions 147
Summary 150
Key Concepts 150
Suggested Readings 151
Chapter 7 Gene Therapy for Liver Disease 153
Christy L. Schilling, Martin J. Schuster, and George Wu
Background 153
Introduction 153
General Principles for Hepatic Gene Therapy 154
Clinical Applications of Liver-Directed Gene Therapy 161
Summary 178
Key Concepts 179
Suggested Readings 180
Chapter 8 Gene Therapy in Cardiovascular Disease 183
Victor J. Dzau, Afshin Ehsan, and Michael J. Mann
Introduction 183
Genetic Manipulation of Cardiovascular Tissue 184
Gene Therapy of Restenosis 187
Gene Therapy for Angiogenesis 189
Gene Therapy of Vascular Grafts 192
Gene Therapy for the Heart 195
Summary 198
Key Concepts 198
Suggested Readings 199
Chapter 9 Components of Cell and Gene Therapy for Neurological Disorders 203
Laurie C. Doering
Introduction 203
Sorting Out the Complexity of the Nervous System 205
What Goes Wrong in Neurological Disorders? 207
Neurotophic Factors and Gene Therapy 210
Neural Transplants and Stem Cells 218
Clinical Neurodegenerative Conditions 222
Clinical Trials Testing Genetically Modified Cells and Neurotrophic Factors for Neurodegeneration 228
Future Considerations and Issues 229
Key Concepts 230
Suggested Readings 232
Chapter 10 Gene Therapy in the Treatment of Cancer 235
Simon J. Hall, Thomas F. Kresina, Richard Trauger, and Barbara A. Conley
Background 235
Introduction 235
Genetic Basis of Carcinogenesis 236
Gene Therapy Approaches to the Treatment of Cancer 242
DNA Cancer Vaccines 255
Summary 260
Key Concepts 260
Suggested Readings 261
Chapter 11 Gene Therapy for HIV Infection 263
Bruce Bunnell
Background 263
Introduction 263
Genetic Organization of HIV 264
Life Cycle and Pathogenesis of HIV-1 Infection 267
Genetic Approaches to Inhibit HIV Replication 269
Transdominant Negative Proteins 269
Nucleic-Acid-Based Gene Therapy Approaches 274
Genetic Approaches to Enhance Immunity in AIDS Stimulation of an HIV-Specific Immune Response 279
Practical Aspects of Gene Therapy for HIV 280
Anti-HIV Gene Therapy Clinical Trials 282
Conclusions 287
Key Concepts 287
Suggested Readings 288
Chapter 12 Gene Therapy Approaches for Rheumatoid Arthritis 291
Renate E. Gay, Steffen Gay, and Thomas Pap
Introduction 291
General Considerations about Gene Therapy in RA 291
Delivery of Gene to Synovial Cells 294
Animal Models to Test Gene Therapy Approaches 295
Current Targets for Gene Therapy in RA 296
Clinical Status and Future Perspective 299
Key Concepts 299
Suggested Readings 300
Chapter 13 Federal Oversight of Gene Therapy Research 303
Thomas F. Kresina
Background 303
Introduction 304
Office of Biotechnology Activities 305
Recombinant DNA Advisory Committee 306
Current Review and Approval Process 308
Moving Too Fast in a Field of Promise 311
Institutional Review of Recombinant DNA Research 312
International Efforts at Regulatory Oversight 315
Summary 315
Key Concepts 316
Suggested Readings 317
Chapter 14 Ethical Issues in Molecular Medicine and Gene Therapy 319
Leonard M. Fleck
Background 319
Introduction 319
Molecular Medicine and Gene Therapy: Ethical Issues in the Clinical Context 320
Gene Therapy: Ethical Issues at the Policy Level 333
Key Concepts 343
Suggested Readings 345
Chapter 15 Epilogue: Personal Genetic Medicine—The Future Is Now 347
Thomas F. Kresina
Introduction 347
DNA Databases 347
Individual Genetic Preventive Medicine 348
Individual Genetic Medicine and Pharmacotherapy 349
Suggested Readings 350
Appendix: Commercial Implications: Large-Scale DNA Production and Quality Control; Technology Advancement and Elucidating the Human Genome 353
Charles Lollo and Andrea D. Branch
Background 353
Introduction 353
Proprietary Technology 354
Considerations in Choosing a Target Disease for Gene Therapy 356
DNA Production and Quality Control 357
Large-Scale Production: An Overview 358
Large-Scale Production: The Purification Process 359
Large-Scale Production: Quality Control 362
Technology Advancement 364
Summary 371
Key Concepts 371
Suggested Readings 372
Index 375
See More
Book Overview
Overview includes thorough book description and link to table of contents information. Also contains link to order information.
See More
Buy Both and Save 25%!
An Introduction to Molecular Medicine and Gene Therapy (US $146.95)
-and- Evolution after Gene Duplication (US $121.95)
Total List Price: US $268.90
Discounted Price: US $201.67 (Save: US $67.23)
Cannot be combined with any other offers. Learn more.