Textbook
Personal Finance, 8th Edition
ISBN: 978-0-471-39322-1
704 pages
May 2001, ©2002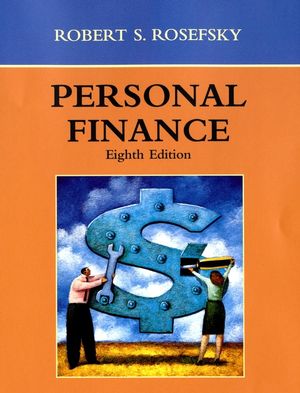 Rosefsky's Personal Finance gives students a practical, down-to-earth introduction to sound money management. It explores the real-life problems that students will face, and trains them to solve those problems. Students will develop the skills needed to deal with housing, insurance, investments, budgeting, the workplace, retirement, smart shopping, borrowing and more.
This edition takes advantage of the flexibility of the Internet to provide weekly updates of information on the companion web site for the book. The web site contains such resources as selected articles from the Wall Street Journal's website, and links to valuable information sources that supplement and enhance the text.
See More
Get the Picture?
FAMILY ECONOMICS.
The Economy: How It Works and What It Means to You.
Working, Planning, and Budgeting.
Sensible Shopping and Spending.
Frauds and Swindles and How to Avoid Them.
Transportation: Buying, Financing, and Insuring Your Cars.
A ROOF OVER YOUR HEAD.
Buying a Home.
Financing a Home.
Housing Costs and Regulations.
Renting.
Selling Your Home.
WHERE THE MONEY IS.
Financial Institutions.
Credit and Borrowing.
MAKING YOUR MONEY GROW.
Making Your Money Grow: An Overview.
Making Your Money Grow: The Money Market.
Making Your Money Grow: The Stock Market.
Making Your Money Grow: Real Estate and Other Opportunities.
PROTECTING WHAT YOU WORK FOR.
Life, Health, and Income Insurance.
Financial Planning For Later Years.
Estate Planning.
Income Taxes.
Working for Yourself.
Glossary.
Index.
See More
Dr. Robert Rosefsky's credentials as author, educator, and professional financial consultant uniquely suit him to create this definitive text on personal fianance.
After receiving his B.A. degree from Yale and his Juris Doctor degree from Syracuse University College of Law, he had a dual career for many years as a lawyer/banker, dealing with his clientele as a "financial problem solver". He then turned his efforts to the mass media to educate a broader audience in personal finance.
Dr. Rosefsky's advice has been nationally syndicated in newspapers, radio and television. He has written ten books and a countless number of articles. He has won the prestigious national John Hancock Award for Excellence in Financial Journalism, and has served on the Board of Governors of the Society of American Business and Economics Writers.
He has created two college-credit educational television courses, "You and the Law," and "Personal Finance" which has been nationally distributed by PBS, and which won an Emmy Award as "Best Instructional Series."
Dr. Rosefsky has taught Business and Economic Reporting at the University of Southern California (USC) School of Journalism, as well as adult extension Financial Planning programs at UCLA, USC, and Coastline Community College. He has lectured extensively throughout the United States and abroad.
He has also developed a leisure career as a travel writer and editor. He was co-founder and editor-in-chief of CruiseNet, a print travel magazine focusing on cruise vacations, and is producing an Internet magazine Life's a Trip.
See More
A new opening section, Americans and Their Money- An Inside Look At How We Save, Borrow and Age. This survey puts into perspective the habits for better and worse, that influence how we manage our money.
Quick-Click Links- a directory of over 200 newly compiled Internet sites take students directly to RESOURCES (comprehensive research starting points,) TOOLS (calculators, etc. to solve every-day number-crunching problems) and COMPLAINTS (on-line forms and instructions.) Instructors will be able to use them to spark class discussion and for homework assignments.
A Power Point Presentation contains TALKING POINTS—situations in which students will confront people trying to sell them something, and which will stimulate the students' ability to respond to such situations intelligently and sensibly. Excellent as a spark for classroom discussion, and as a tool for students in everyday life.
Important content changes include new information on the pros and cons of the Internet, with new internet references, and a new section in each chapter, CAVEAT, which warns readers of specific dangers and problems to which unwise use of the internet can expose them.
Each chapter now begins with two brief sections, THIS COULD HAPPEN TO YOU- a vignette describing a possible dilemma that students might face. This is followed by WHAT YOU NEED TO KNOW, which provides a real life foundation for the chapter's Learning Objectives.
See More
Conversational, Easy-to-Read Style The author is well known for his efforts to make each concept easy to read and understand. He employs real world examples and every-day occurences to help explain key principles of personal finance.
See More
Instructors Resources
Request a print evaluation copy
Contact us

Contact your Wiley Representative
Find Your Rep

See More
See Less