Memos to the President: Management Advice From the Nation's Top CEOs
ISBN: 978-0-471-39338-2
264 pages
September 2000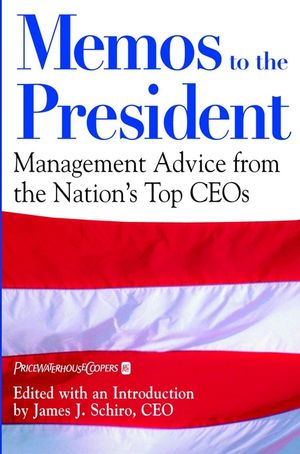 Eavesdrop in the corridors of power . . .
The nation's top CEOs share their valuable insights, experiences, and techniques running large, powerful organizations with the President of the United States. James J. Schiro, CEO of leading consulting firm PricewaterhouseCoopers, has compiled important advice that reveals the crucial factors that determine the success of the country's top companies.
In Memos to the President, chief executive officers from leading U.S. corporations apply their knowledge of managing complex organizations to the monumental challenges facing the federal government. In memos addressed directly to the president, they discuss major management issues and offer valuable insights and strategies that will help the president leverage technology to improve performance; create new programs for developing future leaders; improve internal communications; manage large-scale organizational change; and promote ethical behavior. This invaluable advice comes from major business figures, including:
James B. Kelly of UPS
J. W. Marriott Jr. of Marriott International
Esther Dyson of EDventure Holdings
Earnest Deavenport of Eastman Chemical
Arthur Blank of Home Depot
Solomon D. Trujillo of U S West
Seymour Sternberg of New York Life
Joseph Neubaur of Aramak
Lars Nyberg of NCR
See More
Partial Table of Content:

James P. Kelly, Chairman and Chief Executive Officer, United Parcel Service: "Communicating Your Vision".

Edward J. Ludwig, President and Chief Executive Officer, Becton Dickinson: "Getting Started-Creating a Distinct Vision".

Leonard Schaeffer, Chairman and Chief Executive Officer, WellPoint Health Networks: "The Challenge of Leadership in a Complex Marketplace".

James J. Schiro, Chief Executive Officer, PricewaterhouseCoopers: "Managing Change".

Eric Kuhn, President, Chief Executive Officer and Co-Founder, Varsity Group, Inc.: "The Importance of Knowing and Understanding Your Customers".

J.W. Marriott, Jr., Chairman and Chief Executive Officer, Marriott International, Inc.: "The Importance of People".

Arthur M. Blank, President and Chief Executive Officer, The Home Depot: "Managing in a Values Drive Environment".

Joseph D. Sargent, Chief Executive Officer, The Gaurdian Life Insurance Company of America: "Promoting Ethical Behavior in Large Organizations".

Esther Dyson, Chairman, EDventure Holdings: "Internet Privacy and Security Issues You Face".

James J. Forese, President and Chief Executive Officer, IKON Office Solutions: "A Five-Step Plan for Improving Organizations".
See More
PricewaterhouseCoopers
is the world's leading professional services organization. With 150,000 employees in 150 countries, the firm helps clients solve complex business problems and measurably enhance their ability to build value, manage risk, and improve performance.
James J. Schiro has been Chief Executive Officer of PricewaterhouseCoopers since 1998 when Price Waterhouse merged with Coopers & Lybrand. Prior to that he was CEO of Price Waterhouse, where he was elected Senior Partner in 1995. He is a graduate of St. John's University.
See More