Getting Started in Online Brokers
ISBN: 978-0-471-39425-9
272 pages
February 2001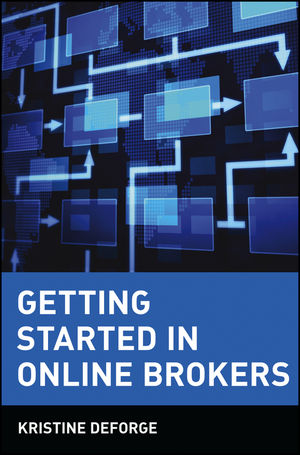 What every investor should know before investing with an online stock broker
Getting Started in Using Online Brokers provides a quick survey of online brokerages and guidance on how to decide between them. Investors will find information on the many factors one must consider before opening an account. It's one book every investor should keep next to the keyboard when venturing into the lucrative but risky world of online investing.
See More
Dedication.

Acknowledgments.

Introduction.

Nuts and Bolts.

Strategy and Money Management.

The Right Brokerage for You.

Your Online Lifeline.

Brokerage Profiles.

Glossary.

Index.
See More
KRISTINE DEFORGE is a research assistant with Quantech Research Group, an institutional investment research firm headquartered in New York City. In 1999, Ms. DeForge received the Psi Beta National Honor Society Award for excellence in stock market research.
LOREN FLECKENSTEIN serves as stocks editor of tradingmarkets.com, where he contributes to daily commentary on the stock market and provides instruction on trading tactics. Before joining tradingmarkets.com, Mr. Fleckenstein was a staff writer with Investor's Business Daily.
See More