Wireless and Mobile Network Architectures
ISBN: 978-0-471-39492-1
560 pages
October 2000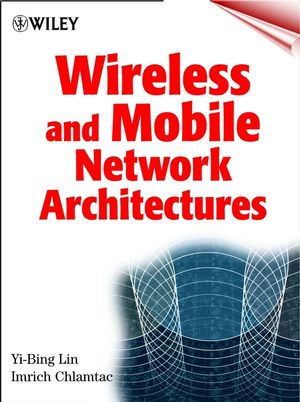 A comprehensive guide to building wireless and mobile networks and services. Based on advanced wireless and mobile network architectures, Personal Communication Services (PCS) offers the enterprise freedom of communication through mobility. This book gives network engineers and managers a window on the world of wireless and mobile networks, from the enabling technologies and protocols to creating and managing mobile services. Lin and Chlamtac use a unique sustained example approach to teach you how PCS concepts apply to real network operation. For example, they use location update to illustrate concepts in chapters on network signaling,
- Mobility management for different systems
- Wireless Application Protocol Network signaling for IS-41-based systems, PACS, and GSM
- Roaming procedures and international roaming
- Operational management
- VoIP service for mobile networks
- Mobile number portability
- GPRS
- Third generation (3G) mobile systems
- Wireless enterprise networks
- Wireless Local Loop
- And much more
See More
Mobility Management.

Handoff Management: Detection and Assignment.

Handoff Management: Radio Link Transfer.

IS-41 Network Signaling.

Inter-System Handoff and Authentication in IS-41.

PACS Network Signaling.

Cellular Digital Packet Data.

GSM System Overview.

GSM Network Signaling.

GSM Mobility Management.

GSM Short Message Service.

International Roaming for GSM.

GSM Operations, Administration and Maintenance.

Mobile Number Portability.

VoIP Service for Mobile Networks.

Mobile Prepaid Phone Services.

General Packet Radio Service (GPRS).

Wireless Application Protocol.

Heterogeneous PCS.

Third Generation Mobile Services.

Paging Systems.

Wireless Local Loop.

Wireless Enterprise Networks.

Reference.

Index.
See More
Yi-Bing Lin, PhD, is a professor in the Department of Computer Science and Information Engineering (CSIE) at the National Chiao Tung University (NCTU) in Taiwan. Previously the Chair of CSIE/NCTU and a research scientist at Bell Communications Research, Lin has published over 130 journal papers and 100 conference papers, and holds two important mobility patents. Lin has served on the editorial boards of the journals Wireless Networks, IEEE Networks, IEEE Journal on Selected Areas in Communications, and ACM Mobile Computing and Communications, as Editor-in-Chief of Wireless Networks, Mobile Networks, and Optical Networks magazines.
See More