ManagingNonprofits.org: Dynamic Management for the Digital Age
ISBN: 978-0-471-39527-0
304 pages
November 2001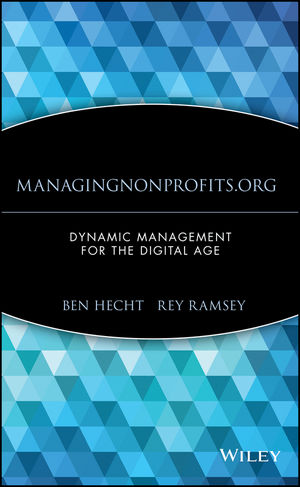 Nonprofit managers have been slow to embrace the digital age. Although technology has transformed the face of the for-profit sector and how it operates, nonprofit use of technology to improve internal functioning and to change the way services are delivered is almost nonexistent. These limitations actually have opened the door for for-profits to "compete" successfully for traditional nonprofit business, such as moving people from welfare to work.

ManagingNonprofits.org is both a call to action and a roadmap for change. Each chapter defines an element of Dynamic Management and identifies "digital hotspots" or places within that element, and the nonprofit's implementation of that element, where digital issues will most likely arise and need to be addressed. In addition, at the end of each chapter, Maxims of Dynamic Management or core truths that the authors have found helpful to follow in their day-to-day experience as nonprofit leaders in bringing Dynamic Management to their organization are provided. Finally, the authors highlight the experience of various nonprofit and for-profit organizations that have successfully made elements of Dynamic Management a reality in their organizations.
See More
Foreword.

Preface.

Acknowledgments.

About the Authors.

Chapter 1. Nonprofits and the Digital Age.

Understanding the Forces of Change.

Forces of Change at Work.

Learning to Operate in New Ways.

Building the Dynamic Management Map:Thriving on Change.

Notes.

Chapter 2. Dynamic Management andDynamic Organizations.

Dynamic Management Defined.

Dynamic Management Map.

Using the Map.

What if You Don t Invert the Pyramid?

Implementing Dynamic Management.

Is Dynamic Management Really Possible?

Reflect and Reposition.

Guiding Principles.

Notes.

Chapter 3. Organizational Context: Takingthe Pulse.

Why Ask What is Going On?

Holding the Mirror up to Yourself:Checking Your Own Pulse.

28Holding the Mirror up to YourOrganization and the Worldaround You.

Two Organizations That Took Their Pulseand Changed Forever.

Reflect and Reposition.

Guiding Principles.

Notes.

Chapter 4. Corporate Culture: Vision,Values, and People.

The Importance of Culture.

Vision.

Repositioning Your Vision: Visionand the Role of Leaders.

Values.

People.

Reflect and Reposition.

Guiding Principles.

Notes.

Chapter 5. The Business Model and theCustomer.

Defining Business Model .

The Customer.

Expanded Customer Choices.

Expanding Your Customer Base.

Sustainability.

Reflect and Reposition.

Guiding Principles.

Notes.

Chapter 6. Content Products and Services.

Reflecting on Content.

The New Frontier for Products andServices: The Internet Double Helix.

Reflect and Reposition.

Guiding Principles.

Notes.

Chapter 7. Infrastructure.

What Is the Infrastructure?

Senior Management.

Creating the Environment.

Having a Vision for the Net.

Stable and Diverse Resources.

Technology.

Reflect and Reposition.

Guiding Principles.

Notes.

Chapter 8. Alignment.

The Role of the Leader in Aligningthe Organization.

Tools for Alignment.

Corporate Structure and OrganizationalChart.

Reflect and Reposition.

Guiding Principles.

Notes.

Chapter 9. Living the Map: The OneEconomy Story.

Who We Are and How We Got Here.

Holding the Mirror up to Ourselves.

Building the Culture: Vision, Values,and People.

Developing the Business Model.

Building the Infrastructure.

Alignment.

What the Future Holds.

Share Your Experiences Living the Map.

Notes.

Chapter 10. What s in Store for the DynamicManager: Looking at the Futureof Nonprofit Management.

The Horn & Hardart-ization of Customers.

The Melting Pot in the Lunch Room.

Good-bye Tonto, or the End of the LoneRanger.

The Corporate Facelift.

How Do I Respond to These Trends?

Notes.

Appendix A: Resources for OnlineFundraising.

Glossary of Internet Terms.

Index.
See More
BEN HECHT, JD, CPA, is an experienced nonprofit executive, author, and lecturer. In 2000, he and Rey Ramsey founded One Economy Corporation, a national nonprofit dedicated to maximizing the power of technology to expand opportunities for low-income people to improve their standard of living. He currently serves as One Economy's President and Chief Operating Officer.
REY RAMSEY, JD, is a seasoned executive and social entrepreneur. He currently serves as Chief Executive Officer and Board Chair of One Economy. From 1996 to 2000, the authors worked together applying principles of dynamic management at The Enterprise Foundation and its network of 1,500 community-based organizations nationwide.
See More