How to Buy a House with No (or Little) Money Down, 3rd Edition
ISBN: 978-0-471-39731-1
304 pages
April 2001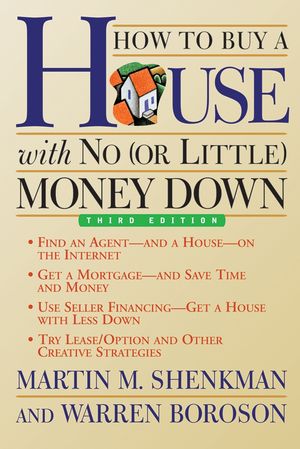 The Ultimate guide to finding and financing a home

Almost everyone aspires to owning a home, but the reality of coming up with a large enough down payment often stands in the way of making that dream come true. No longer! How to Buy a House with No (or Little) Money Down has helped tens of thousands become homeowners, and now it's your turn!

Financing your dream home can be possible even if you never thought you could. This completely updated and expanded Third Edition shows you how. Even if you are relatively cash-poor or have a less-than-perfect credit rating, real estate and financial experts Martin M. Shenkman, CPA, MBA, JD, and Warren Boroson can help you obtain a mortgage and find the house you've always wanted--with expert guidance through all the confusing legal and tax issues involved. Featuring new sections on choosing an agent, using the Internet to search for an agent and a house, and how to win the bidding war, this clear, nontechnical guide tells you how to:
* Make seller financing the ticket to your dream home
* Take advantage of equity sharing, equity kicker mortgages, and other esoteric techniques
* Use lease options to build equity while renting
* Apply for and obtain fha, va, family, and other loans you may qualify for
* Inspect a house from top to bottom, inside and out
* Bargain with a seller and save a bundle
* And much, much more


You can obtain a down payment and get the most house for your buck--simply read How to Buy a House with No (or Little) Money Down and start making your dream a reality!
See More
Why Buy a House with Little or No Money Down?

How Much House Can You Afford?

If Your Credit Record Is Poor...

The Smarter You Buy--The Lower the Down Payment.

Cutting Closing Costs.

Let the Seller Also Be the Banker.

Mom and Dad (or a Good Friend) Give the Down Payment.

Borrow the Down Payment from Family or Friends.

Equity Sharing.

FHA-Insured Mortgages: The 1.25% to 2.85% Solution.

VA-Guaranteed Loans: The 0% Solution.

The Perfect Mortgage.

Private Mortgage Insurance: The 3% to 19% Solution.

Lease the House with an Option to Buy.

Still Other Sources of Down Payment Money.

The Unconventional Buyer.

More Ways Uncle Sam Can Help--Tax Savings.

Using the Internet.

Glossary.

Index.
See More
MARTIN M. SHENKMAN, CPA, MBA, JD, is a well-known attorney with extensive knowledge of tax law and investments. He is the author of twenty-six books, including How to Sell Your House in a Buyer's Market, Real Estate After Tax Reform, and the previous editions of How to Buy a House with No (or Little) Money Down, all from Wiley.
WARREN BOROSON is an award-winning real estate columnist formerly with the Bergen Record. He has written several bestselling books on mutual funds.
See More