Adenauer: The Father of the New Germany
ISBN: 978-0-471-40737-9
608 pages
January 2001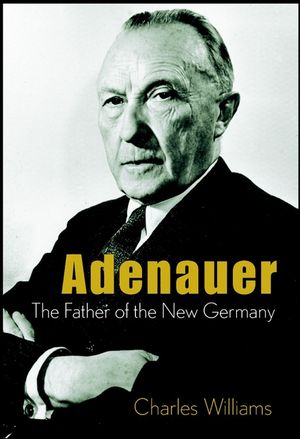 Critical Acclaim for ADENAUER

"A gripping narrative . . . brings to life an intriguing historical figure . . . an enthralling perspective on the processes that shaped the postwar world." --Daily Telegraph (London)

"Charts the ironies of Adenauer's complicated life. This is the story of a marathon man, but it is narrated at the pace of a sprinter and with the elegance of a hurdler."--The Times (London)

"Lucid and engaging. This is a well-researched and elegantly written volume which deserves a wider readership than the purely political."--The Herald (Glasgow)

"A highly readable, thoroughly reliable, intelligently critical life-and-times. . . . This portrait does justice to a man who is often invoked as a prophet of a United States of Europe, but who was in truth the greatest of German patriots."--Literary Review (London)

"Well-researched and admirably written . . . reveals Adenauer the man--with all his authority and strength, his persistence and endurance, and his streak of ruthlessness and political cunning."--The Independent (London)

THE LAST GREAT FRENCHMAN

"Knowledgeable, lucid . . . the best English biography of de Gaulle."--The New York Times Book Review

"Charles Williams has matched a great subject by something near to a great book."--Daily Telegraph (London)
See More
List of Illustrations.

Preface.

THE KAISER'S GERMANY.

Cologne: 1876.

'Gaudeamus Igitur Juvenes Dum Sumus'.

The End of Youth.

The Ladder of Ambition.

A Time of Tragedy.

The Management of Defeat.

WEIMAR GERMANY.

The Aftermath of War.

Life Has to Go On.

The Reparations Crisis.

1923.

Cologne Is Free!

The Private and Public Mayor.

Dubious Manoeuvres.

Confrontation.

HITLER'S GERMANY.

Decent Into Darkness.

They Start to Close In.

He No Longer Matters.

Keeping Out of Trouble.

A Quiet War.

'The War Is Over!'

ADENAUER'S GERMANY.

Sacked by the British.

Another Political Birth -
Another Personal Death.

The Beginnings of the New Germany.

The Federal Chancellor.

Building Europe -
And Facing the Bear.

At Home and at Work.

Politics Is an Art -
Not a Science.

Where Does Germany Stand?

Can Anyone Be Trusted?

Enter the General.

Khrushchev's Challenge.

Threats and Counter-Threats.

From Triumph to Dismissal.

Finale.

Acknowledgements.

Select Bibliography.

Notes.

Index.
See More
Charles Williams, Lord Williams of El-vel, has enjoyed a distinguished political career,becomingaLabour Life Peer in 1985beforebeingelected Deputy Leader of the Opposition in 1989. He is theauthor oftwo brilliantly received biographies, The Last Great Frenchman and Bradman.
See More