Loving Him without Losing You: How to Stop Disappearing and Start Being Yourself
ISBN: 978-0-471-40979-3
304 pages
January 2001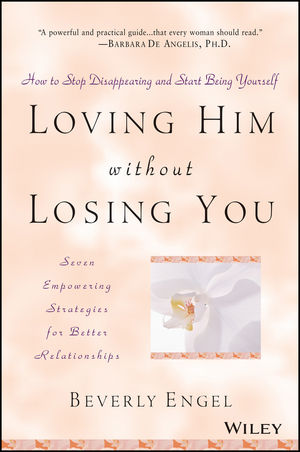 Are you a Disappearing Woman?

"Beverly Engel has identified a widespread problem and provided women with wise guidelines for bursting through it. She writes with compassion and insight. If you think you are a Disappearing Woman, you will drink in this book as if it were a health-giving elixir. It is!"-Susan Page, author of How One of You Can Bring the Two of You Together and If I'm So Wonderful, Why Am I Still Single?

"This remarkably helpful book offers new insights into why so many women surrender their individuality in relationships. Don't wait until your hair is on fire to read it."-Maxine Schnall, founder and Executive Director of Wives Self Help

"A book of depth and power. I highly recommend it not only to women who lose themselves in their relationships with men but to the parents of adolescent girls who need to be taught how to view themselves as valuable beings separate from their relationships with men and boys."-Michael Gurian, author of The Good Son and A Fine Young Man

Do you frequently find yourself putting your lover's needs ahead of your own? Do you tend to lose yourself in your romantic relationships? Have you ever neglected your career, your friends, or even your health while in the midst of a love affair?

Now, in this landmark book, Beverly Engel examines the intricate reasons why so many women submerge themselves in their relationships with men-and offers a straightforward, empowering program that you can use to free yourself from the powerful grip of this all-too-common problem and rediscover yourself as a Woman of Substance.
See More
Introduction.

DISAPPEARING WOMEN.

Are You a Disappearing Woman?

How Women Lose Themselves in Relationships: The Four Truths You Need to Know.

Why Women Tend to Lose Themselves in Relationships: The Cultural, Biological, and Psychological Influences.

The Disappearing Woman Continuum.

HOW TO MAINTAIN YOUR SENSE OF SELF WHILE FLOURISHING IN A RELATIONSHIP: THE SEVEN COMMITMENTS.

Commitment 1: Learn to Go Slowly.

Commitment 2: Be Yourself and Tell the Truth about Yourself.

Commitment 3: Maintain a Separate Life.

Commitment 4: Stay in the Present and in Reality.

Commitment 5: Don't Go Changing to Try to Please Him.

Commitment 6: Cultivate Equal Relationships.

Commitment 7: Speak Your Mind.

BECOME A WOMAN OF SUBSTANCE: DEVELOPING A SELF AND A LIFE THAT SATISFIES YOU.

Find Your Authentic Self.

Find Your Voice.

Find Your Shadow.

Find Your Substance.

Conclusion: Blending and Balancing.

Where Do You Go from Here?

Appendix I: Embracing Your Femininity: Especially for Those on the Mild End of the Continuum.

Appendix II: Women of Substance Support Groups: Especially for Those Near the Middle of the Continuum.

Appendix III: When You Need Professional Help: For Those Who Fall on the Extreme End of the Continuum.

References.

Bibliography anf Recommended Reading.

Index.
See More
BEVERLY ENGEL is an internationally renowned therapist specializing in women's issues, relationships, and sexuality. She is the author of several books including The Emotionally Abused Woman, The Right to Innocence, and Raising Your Sexual Self-Esteem. She has been a featured guest on many national television shows including Oprah, Leeza, Ricki Lake, and Sally Jessy Raphael.
See More