No Cash, No Fear: Entrepreneurial Secrets to Starting Any Business with No Money
ISBN: 978-0-471-41532-9
304 pages
August 2001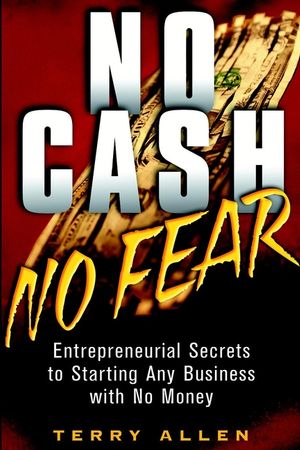 If you've got big ideas and little or no cash--congratulations!

You're just the person Terry Allen speaks to in No Cash, No Fear--a powerful guide to start-up success bursting with invaluable lessons for the aspiring or struggling entrepreneur. Allen, who has started more than 20 businesses in his long and illustrious career, reveals exactly how he did it with none or very little of his own money--and how you can, too! He gives you his foolproof strategies for obtaining cash from a variety of surprisingly accessible sources. You'll discover ways to sell your product before it even exists and how to get someone to give you $1 million to invest (and a Rolls Royce to boot)! Allen also reveals:
* The four ingredients you need to cook up a business
* Why being short of cash should never be a problem
* How to start a business with $2,000 and make $15,000 profit in the first week
* Why you don't need a business degree to be successful
* Four commandments for running a solid, profitable company


"I love this book."--Andrew Tobias, author of the million-copy bestselling classic, The Only Investment Guide You Will Ever Need
See More
Preface.

Acknowledgments.

Introduction.

The Early Years: Worms, Frogs, Turtles, and Snakes.

Formal Education: Trying to Learn, Even While in School.

Vermont Ski Lodge: Building a Business to Meet Ladies.

Real Estate Investing: Learning about Leverage.

Equipment Rental Business: "Don't Buy It, Rent It!"

Retail Toy Store: A Christmas to Remember.

Self-Publishing: My First Book.

Coupon Distribution Service: "Welcome Wagon by Mail".

The Information Industry: Selling a Product and Having It to Sell Again.

Electronic Video Games.

The Sex Education Publishing Business.

Stock Options Trading on the Chicago Board Options Exchange.

Manufacturing Promotional Board Games.

Information Industry Deja Vu.

Selling New Business Names.

Adventures in Russia: Pizza Stores and Ben & Jerry's Ice Cream Shops.

Charitable Trusts: Giving Away $1,000 Every Day Forever.

Looking Back.

Bibliography.

Index.
See More
TERRY ALLEN is a classic entrepreneur who started his first business at the age of seven and went on to start more than 20 businesses. Currently he owns New Business Resources, LLC, a start-up company that offers a variety of services to over 100,000 newly formed businesses every month. Allen is also a partner in Chicago Venture Partners, LP.
See More