Rent Two Films and Let's Talk in the Morning: Using Popular Movies in Psychotherapy, 2nd Edition
ISBN: 978-0-471-41659-3
384 pages
August 2001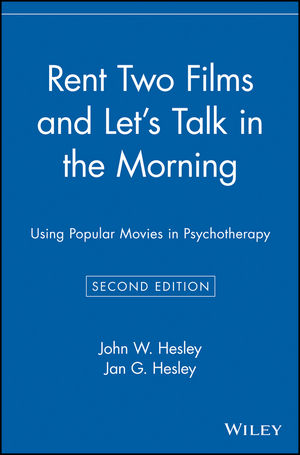 Unlock the emotional roadblocks that can inhibit or interfere with the success of therapy

Videowork is the therapeutic process in which therapists assign popular films that relate to core issues of ongoing therapy. Clients are instructed to do their "homework" between sessions and prepare for discussion in future sessions. Rent Two Films and Let's Talk in the Morning explores how therapeutic work interwoven with popular films enhances traditional therapy. This much-anticipated revision provides an introduction to using movie rentals in therapy and serves as a ready reference for therapists who want to assign videos as homework.

Authors John and Jan Hesley address the dilemmas that you may face when deciding when it is appropriate to assign a film, and offer friendly guidance and detailed information on every aspect of using films as tools in therapy.

In addition, this updated edition:
* Provides concise descriptions of dozens of popular videos and shows how they can be used as therapy for specific therapeutic needs (divorce, child abuse, substance abuse, etc.)
* Contains a revised organizational structure, covering therapy topics based on patient issues frequently encountered in therapy, including marital problems, parenting, job stress, abuse, and emotional disorders
* Offers suggestions on selecting films, creating assignments, and processing homework
* Provides newly released film reviews, along with 40 additional films with brief descriptions, in the "Therapists' Film Reference"
See More
VIDEOWORK: THEORY AND APPLICATION

Introduction to VideoWork.

Integrating Films into Therapy.

Selecting Films for Therapy.

Putting VideoWork into Action.

AN ANTHOLOGY OF THERAPEUTIC FILMS

Introduction

Family Therapy.

Couples Therapy.

Individual Therapy.

Psychopathology.

Medical Issues.

Vocational Issues and Occupational Stress.

Inspirational.

Appendices.

Title Index to Films.

References.

About the Authors.
See More
JOHN W. HESLEY, PhD, is a psychologist with a consulting and psychotherapy practice in the Dallas--Fort Worth area. In addition to scientific papers, he has written numerous articles for popular magazines, newspapers, and trade publications.
JAN G. HESLEY, LMSW, is an advanced clinical practitioner who specializes in marriage and family therapy. She has taught at the university level and has consulted with agencies, churches, and public and private schools.
See More