America's Corner Store: Walgreen's Prescription for Success
ISBN: 978-0-471-42617-2
255 pages
May 2004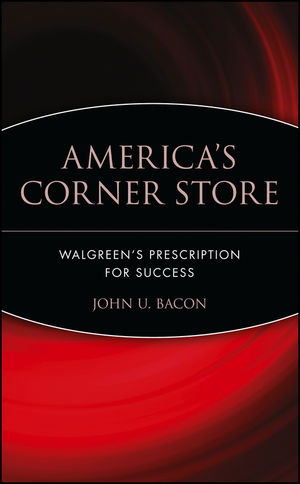 Praise for America's Corner Store

"Who would have thought the story of a drugstore chain could encompass so much vital and fascinating American history? With superb storytelling skills, John Bacon gives us a vivid and insightful chronicle of matters both large and small, from the birth of the milkshake to the rise of America's consumer culture. America's Corner Store is a genuine treat."
-James Tobin
the National Book Critics' Circle--Award winner, and author of To Conquer the Air: The Wright Brothers and the Great Race for Flight

"Run the business with your head. Lead the family with your heart. Walgreens' history is filled with good values, strong principles, and immense courage. A family business classic."
-Howard "Howdy" S. Holmes
President and CEO, "Jiffy" Mixes

"John Bacon has crafted a thorough, insightful, readable, and fascinating account of the development of Walgreens: one of the world's most compelling examples of the creation of shareholder value in conjunction with good corporate governance... all in a company run in a highly unique fashion as a 'family' business. As the store that everyone knows, Walgreens has become the envy of corporate America and the darling of shareholders, consistently producing investor returns that place it at the very top among its peers. This book will be required reading in my private equity class at Michigan Business School."
-Professor David Brophy
Director, Center for Venture Capital and Private Equity Finance, University of Michigan Business School
See More
Preface.
Acknowledgments.
1. From Humble Beginnings.
The Apple and the Tree.
Sweet Home Chicago.
The State of the Profession.
Walgreen Does Chicago.
To Live and Almost Die in Cuba.
Walgreen Returns.
The Most Important Merger.
Diving In—Together.
2. The Start of Something Special: 1910–1929.
On His Own.
The Secrets of the Second Store.
I Scream, You Scream.
The Hot Lunch Program.
Cultivating Leaders.
Growing Like Topsy.
The Pepper Pod.
Steppin' Out.
Chicago in the Roaring Twenties.
On the Lighter Side.
Fundamental Values.
Putting Out Fires.
The Walgreen Creed.
The Knight Report.
"Absolute Dominance".
If They Can Make It Here.
Read All about It.
Chain Fight.
The Good Life.
3. Nothing to Fear: 1929–1945.
Facing Fear Itself.
Better Days Are Coming.
Helping the Mom-and-Pop Shops.
Walgreens' Own: From Coffee to Corn Remover.
Getting the Word Out.
Damn the Depression, Full Speed Ahead!
Finding Time for Fun.
The Son Also Rises.
The Accidental Benefactor.
Charles's Demise.
Defusing a Palace Coup.
There's a War On.
Where Everyone Meets.
4. The Postwar Era: 1945–1970.
The Power Era.
Mergers and Acquisitions.
All Power to the Pharmacist.
Partners in Health.
Battling the Bargain Stores.
The Self-Service Revolution.
The Shopping Center Is Born.
The Four-Way Test.
Chuck's Legacy.
5. Reinventing the Corporation: 1970–1990.
State of the Company.
Looking for a Few Good Men.
Walgreen's Wingman.
The Turn-Around Team.
Killing Off Their Little Darlings.
The Systems behind the Smiles.
Walgreens Goes High-Tech.
Vindication.
6. Poised to Pounce: 1990–Future.
"This Is Dan Jorndt, How May I Help You?"
Plain and Proud of It: The Anti-Enron.
Getting the Right People Ready.
A Good Corner Is a Good Corner.
Passing the Torch.
Hello, My Name Is Dave.
Constant Competition.
Walgreens' Advantages.
The Future Is Now.
Appendix A: Walgreens Financial Facts.
Appendix B: Historic Highlights.
Notes.
Index.
See More
JOHN U. BACON has written on a wide variety of subjects for Time magazine, Fortune magazine, and the New York Times, among other publications, earning several national honors for his work. A former feature writer for the Detroit News, he has also authored Blue Ice: The Story of Michigan Hockey, ghost-written several business bestsellers, and currently hosts a weekly radio show. He lives in Ann Arbor, Michigan.
See More