First Light: The True Story of the Boy Who Became a Man in the War-Torn Skies above Britain
ISBN: 978-0-471-42627-1
368 pages
April 2003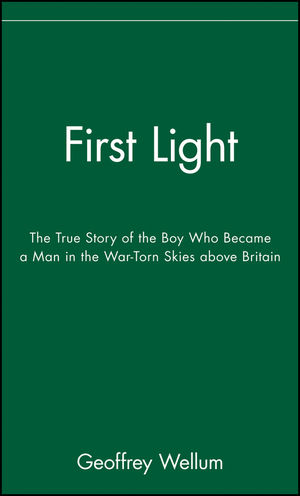 "Wellum's First Light deserves to be read for many years to come."
–The Times (of London)
High praise for England's bestselling First Light . . .
"An extraordinarily gripping and powerful story."
–The Evening Standard (London)
"A work of exceptional quality . . . a passion and immediacy which make it compelling reading."
–Max Hastings, author of Overlord: D-Day and the Battle for Normandy
"A remarkable book, amazingly fresh, honest, and modest . . . utterly gripping; it is without question one of the best books I have read in the last few years."
–Professor Richard Holmes, author of Redcoat: The British Soldier in the Age of Horse and Musket
"Startlingly vivid recollections . . . this is air war at its most intense . . . his readers get a strong sense of immediacy."
–The Spectator (London)
"Geoffrey Wellum's book is a wonderfully evocative find . . . a book for all ages and generations, a treasure."
–Daily Express (London)
See More
List of Illustrations.
Prologue.
Ab Initio.
Ad Astra.
Fighter Squadron.
First Light.
Mars, God of War.
Brief Encounter.
Parting Day.
Snappers About.
Convoy Pair.
Over There.
White Cliffs.
Twilight.
Beyond the Hill.
Return to the Fray.
Operation Pedestal.
White Clouds.
Epilogue.
See More
GEOFFREY WELLUM was born in Walthamstow, England, and educated at Forest School. At age seventeen, he joined the RAF on a short-service commission in August 1939 and served with the 92nd Squadron throughout the Battle of Britain. In March 1942 he joined the 65th Squadron as Flight Commander and, later that year, led a group of eight Spitfires in the relief of Malta during Operation Pedestal. He later served as a test pilot on Typhoon fighter planes and as a gunnery instructor until the end of the war. He remained with the RAF after the war, retiring in 1961 to take a position as a commodities broker in London. He now lives in Cornwall, England.
See More