E-book
Mind Like Water: Keeping Your Balance in a Chaotic World
ISBN: 978-0-471-43010-0
256 pages
February 2004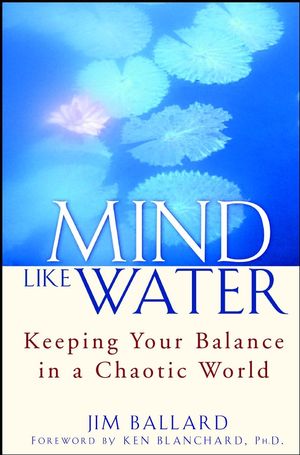 Acclaim for Mind Like Water

"From What's the Rush? to Whale Done! Jim Ballard is mentor to millions. Now, in Mind Like Water, Ballard, as always, doesn't just show where his powerful and perceptive intellect has been, he takes you along and gives you the tools to revisit and explore on your own. Mind Like Water is a journey to places and spaces you realize you are visiting again for the first time. It's an easy, charming read that shows you how to be exactly where you need to be: calmly in control, regardless of the situation."
-Sheldon Bowles, coauthor of Raving Fans

"Reading Mind Like Water feels like handing the keys to my car to a very wise man and letting him drive for a while while I just enjoy the ride-and his words. Not only does this book make me think deeply about my work and life, it offers wonderful exercises for assessing and adjusting aspects that have not been working effectively. A must read for anyone struggling with work-home balance and how to find and bring your true self to your daily life."
-Jayne Pearl, author of Kids and Money

"Jim Ballard puts his finger on the true cause of the anxiety that grips us all in this age of information overload-change. And then he gives us the antidote, a Mind Like Water. Many books inspire and motivate; this one provides a blueprint for actions that can be truly transforming. It is brilliant in its simplicity. Not since Alan Watts has an American author made Eastern knowledge so accessible, relevant, and practical-even for a Type A, stressed-out, left-brain thinking, typical American such as myself."
-Ken Miller, President of Teacher Education Institute

"Mind Like Water invites the reader to participate in a variety of practical, accessible methods that support us in staying present in the moment, help us see things as they are, and live with equanimity amidst the unpredictability of our lives. Capturing the wisdom of great spiritual teachers, authors, and poets, Mind Like Water offers a respite from the hectic pace of our lives."
-Tara Healey, Senior Organizational Consultant, Harvard Pilgrim Health Care

"Jim Ballard is one of the most compassionate people I know, and in his new book Mind Like Water he shares some of his warmth and love with readers. If you want a feeling like snuggling into a warm coat on a blustery, wintery day, try opening this book to any page and reading. If you don't absorb some of the wisdom in Mind Like Water then you're just not paying attention."
-Noel Burch, coauthor of Teacher Effectiveness Training
See More
Foreword by Ken Blanchard.

Acknowledgments.

Introduction1

FLUIDITY.

Step 1: Trust Your Intuition.

Step 2: Live in the Moment.

Step 3: Keep the Instrument Tuned.

LEVEL-SEEKING.

Step 4: Balance Control with Surrender.

Step 5: Balance Reason with Feeling.

Step 6: Balance Family and Work.

REFLECTION.

Step 7: Enter Your Day.

Step 8: Seek Silence.

Step 9: Learn to Meditate.

ABSORPTION.

Step 10: Take Stock.

Step 11: Manage Attention.

Step 12: Work Unattached.

FORM-CHANGING.

Step 13: Question Reality.

Step 14: Stay Audible-Ready.

Step 15: Don't Be Difficult.

MOTIVELESSNESS.

Step 16: Be a Time Millionaire.

Step 17: Call Your Mother.

Step 18: Practice Gratefulness.

IMPLACABILITY.

Step 19: Know Your Mission.

Step 20: Become a Warrior.

Step 21: Be an Everyday Hero.

ESSENCE.

Step 22: Right Yourself.

Step 23: Seek Answers from the Heart.

Step 24: Live Your Dream.

Afterword.

Index.
See More
JIM BALLARD is a consulting partner with the Blanchard Training and Development organization, Ken Blanchard's company. He regularly consults and gives lectures nationwide. Ballard coauthored Whale Done!: The Power of Positive Relationships with Blanchard, and he is the author of What's the Rush?
See More