E-book
J.K. Lasser's Taxes Made Easy for Your Home-Based Business: The Ultimate Tax Handbook for the Self-Employed, 5th Edition
ISBN: 978-0-471-43093-3
288 pages
February 2003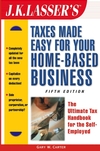 * Completely updated for all the new tax laws
* Capitalize on every deduction!
* Sole proprietor, corporation, or partnership?


The Ultimate Guide to Running a Tax-Efficient Home-Based Business

The advantages of operating a home-based business are countless, but what many owners don't realize, and are often not prepared to handle, are the host of complex tax issues surrounding a home-based business. The completely updated Fifth

Edition of J.K. Lasser's Taxes Made Easy for Your Home-Based Business clarifies the current tax environment with regard to home-based businesses, and shows you how to make the most of the new tax laws.

This perennial guide answers home-based business owners' questions, with a special focus on the changing tax laws and deductions for the home office. Expert advice and in-depth insights will help you avoid costly mistakes and take advantage of opportunities you would otherwise miss.

Critical coverage will help you:
* Navigate the details of the new tax laws and IRS rules
* Increase your knowledge of deductible expenses
* Keep your records up to IRS standards
* Organize and run a home-based business for maximum tax benefits
* Make filing easy by utilizing sample tax forms
See More
Introduction: Before We Get Started.
The Lay of the Land.
What Is a Business for Tax Purposes?
Choices for Business Organization.
Tax Accounting Methods and Periods.
Limitations on Use of Your Home.
Form 8829 Line by Line.
Planes, Trains, and (Especially) Automobiles.
Other Common Business Deductions.
Other Taxes.
Sale of Your Residence.
Records You Better Keep.
A Comprehensive Example.
Index.
See More
GARY W. CARTER, CPA, PhD, MT, has more than twenty years of tax experience. He has worked as a revenue auditor and tax practitioner, and is currently on the faculty of the University of Minnesota?s Carlson School of Management. Carter also writes, lectures, has a Web site (www.gwcartercpa.com), and conducts seminars on tax issues pertaining to home-based businesses.
See More