Network Performance Open Source Toolkit: Using Netperf, tcptrace, NISTnet, and SSFNet
ISBN: 978-0-471-43301-9
429 pages
July 2003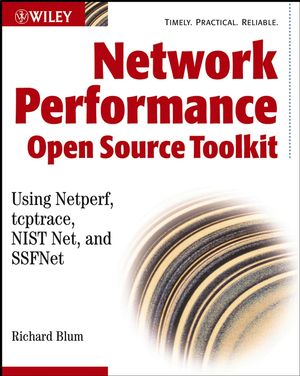 In these times of reduced corporate budgets, this book shows how to test for performance problems and how to install and run freely available tools, instead of buying costly new hardware and software testing packages
Network performance is the #1 headache for network operators; this book gives IT professionals straightforward guidance
Author is a troubleshooting practitioner, a hands-on networking computer specialist for the Department of Defense
See More
Acknowledgments.
Introduction.
Part One: Network Performance Primer.
Chapter 1: Defining Network Performance.
Chapter 2: Watching Network Traffic.
Chapter 3: Network Device Utilization.
Part Two: Network Performance Tools.
Chapter 4: netperf.
Chapter 5: dbs.
Chapter 6: Iperf.
Chapter 7: Pathrate.
Chapter 8: Nettest.
Chapter 9: NetLogger.
Chapter 10: tcptrace.
Chapter 11: ntop.
Chapter 12: Comparing Network Performance Tools.
Part Three: Application Performance Tools.
Chapter 13: Measuring Application Performance.
Chapter 14: dummynet.
Chapter 15: NIST Net.
Chapter 16: Network Traffic Generator.
Chapter 17: ns.
Chapter 18: SSFNet.
Chapter 19: Comparing Application Performance Tools.
Appendix: Resources.
Index.
See More
RICHARD BLUM is a networking computer specialist for the U.S. Department of Defense. He is responsible for managing a 3500+ user network that contains Novell®, UNIX®, and Windows® servers along with a remote mainframe connectivity. He has managed many types of network monitoring programs and has written network monitoring and client/server programs using C, C++, Java™, and C#. Blum is also the author of several computer books.
See More