The Juvenile Justice and Residential Care Treatment Planner
ISBN: 978-0-471-43320-0
432 pages
March 2002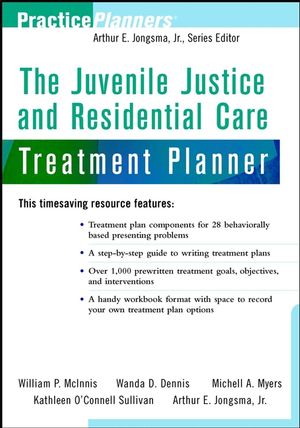 The Juvenile Justice and Residential Care Treatment Planner
provides all the elements necessary to quickly and easily develop formal treatment plans that satisfy the demands of HMOs, managed care companies, third-party payers, and state and federal review agencies.
Saves you hours of time-consuming paperwork, yet offers the freedom to develop customized treatment plans for juvenile clients
Organized around 28 main presenting problems, from depression and abandonment issues to truancy, substance abuse, family instability, and others
Over 1,000 well-crafted, clear statements describe the behavioral manifestations of each relational problem, long-term goals, short-term objectives, and educational interventions
Easy-to-use reference format helps locate treatment plan components by behavioral problem or DSM-IV-TR(TM) diagnosis
Includes a sample treatment plan that conforms to the requirements of most third-party payers and accrediting agencies (including HCFA, JCAHO, and NCQA
See More
Series Preface.

Acknowledgments.

Introduction.

Academic Underachievement/Learning Disabilities.

Assaultive/Aggressive.

Attention-Deficit/Hyperactivity Disorder (ADHD).

Cruelty to Animals.

Deceitful/Manipulative.

Depression.

Drug Selling.

Enuresis.

Family Instability/Violence.

Family/Societal Reintegration.

Fire Setting.

Foster Care Placement.

Gang Involvement.

Grief/Abandonment Issues.

Isolated/Distrustful/Angry.

Low Self-Esteem.

Peer Conflict.

Physical Abuse Victim.

Probation Noncompliance.

Runaway/Street Living.

Sexual Abuse Victim.

Sexual Promiscuity.

Stealing/Breaking and Entering.

Substance Abuse.

Suicidal Ideation/Self-Harm.

Truancy.

Vandalism/Trespassing.

Appendix A: Bibliotherapy Suggestions.

Appendix B: Index of DSM-IV Codes Associated with Presenting Problems.

Appendix C: Bibliography.

Appendix D: Resources for Therapeutic Games, Workbooks, Toolkits, Videotapes, and Audiotapes.
See More
ARTHUR E. JONGSMA, Jr., PhD, is Series Editor for the bestselling PracticePlanners. He is also the founder and Director of Psychological Consultants, a group private practice in Grand Rapids, Michigan.

WILLIAM P. McINNIS is a child psychologist and coauthor of The Child Psychotherapy Treatment Planner, Second Edition.

WANDA D. DENNIS is a clinical psychologist for the Third Judicial Circuit Court of Michigan.

MICHELL A. MYERS is Clinical Supervisor of the Third Judicial Circuit Court of Michigan.

KATHLEEN O CONNELL SULLIVAN is a clinical psychologist at the Clinic for Child Study in Detroit, Michigan.
See More