Architect's Essentials of Ownership Transition
ISBN: 978-0-471-43481-8
208 pages
March 2002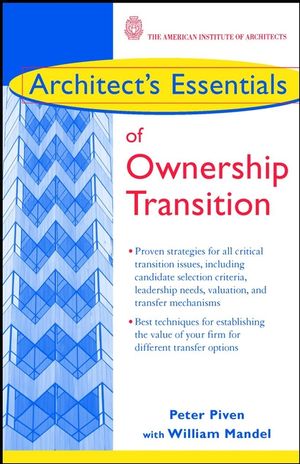 The majority of architecture and design firms employ fewer than ten people. As with any small business, the owner/principal of these firms must make plans for all of the eventual transitions that will impact the practice and any or all of the people therein. This book in the Professional Practice Essentials Series offers comprehensive advice on the subject, specifically tailored to the practicing design professional. Here, a noted consultant who specializes in architecture firm management addresses a host of vital transition issues, including growth, expansion, management changes, internal transitions, mergers, acquisitions, liquidations, retirements, and much, much more.
See More
Foreword.

Acknowledgments.

PART 1: Introduction.

What Is Ownership Transition?

Why Is Ownership Transition Necessary?

PART 2: Ownership Transition Options.

Internal Transfer.

Bring in a Leader.

Merger.

Acquisition.

Employee Stock Ownership Plan (ESOP).

Liquidation.

PART 3: Determining Candidate SelectionCriteria and CommunicatingFounders Expectations.

What Do Owners Contribute to Firms?

Candidate Selection Criteria.

Communicating Expectations toNew Owners.

PART 4: Valuing the Firm: How MuchIs It Worth?

What Is Value?

How Is Value Determined?

Components of Valuation.

Purposes of Valuation: How ValuationIs Used in the Ownership Transition Process.

Determining Value.

Methods of Determining Value.

Extenuating Circumstances and Exceptions.

PART 5: Making the Purchase Affordable: OwnershipTransfer Mechanisms.

After-tax Transaction for Stock.

After-tax Stock Purchase Plus CompensationExchange Method.

Deferred Compensation Method.

Owner Transfer for Partnershipor Limited Liability Companies.

Zero-based Transfer.

PART 6: Designing the OwnershipTransition Program.

Important Considerations.

PART 7: Getting the Ownership Transition Program Started.

Assembling the Team.

Laying the Foundation.

Designing the Program.

Evaluating Candidates.

Establishing a Rate of Transition.

Deciding on the Terms.

Documenting the Program.

Next Steps.

PART 8: Documenting the Ownership Transition Program.

Offering Memorandum.

Stock Purchase Agreement.

Secured Promissory Note.

Security Agreement.

Stockholder Agreement.

Indemnification Agreement.

Deferred Compensation Agreement.

Employment Agreement.

Why Is Spousal Consent Required for SomeProgram Documents?

Ownership Transition Documents forOrganizations Other Than Corporations:Partnerships and Limited LiabilityCompanies.

PART 9: Choosing the Form of Entity.

Partnership.

General Corporation.

Professional Corporation.

Limited Liability Company.

PART 10: Developing Leadership inthe Firm.

What Are Leaders?

What Attributes Do Leaders Have?

Process of Leadership Development.

Leadership and Management.

PART 11: Preparing for Future Transition.

Why Prepare for Future Transition?

Glossary.

Bibliography.

Index.
See More
PETER PIVEN, FAIA, is the Philadelphia-based Principal Consultant of The Coxe Group, Inc., the oldest and largest multidiscipline firm providing management and marketing consultation to design professionals.
WILLIAM MANDEL, Esq., is a founding partner of the San Francisco--based MBV Law LLP, a law firm that specializes in merger/acquisition and ownership expansion programs for design professionals and other businesses.
See More
More in this series