E-book
Three Clicks Away: Advice from the Trenches of eCommerce
ISBN: 978-0-471-43682-9
256 pages
March 2002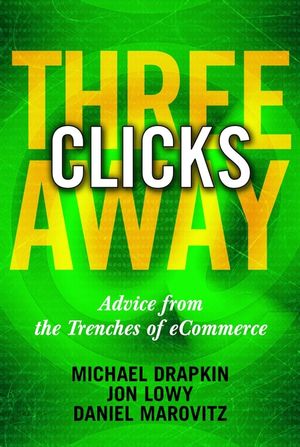 On the Web, you should never be more than 3 clicks away from the information you need
3 Clicks Away delivers the collective experience of three distinguished Internet strategists who have led e-commerce initiatives for such notable firms as Gateway, Dow Jones, iVillage, Nickelodeon, and Casio. This book is a tactical guide that demonstrates how to develop e-commerce strategy, revamp the organization so that it can support e-commerce initiatives, and manage complex multidisciplinary projects. 3 Clicks Away provides the solutions and tools executives and managers need to successfully launch and maintain e-commerce sites. It provides critical information on organizational, financial, and project management tactics.
See More
Foreword.

Introduction.

STRATEGY.

Formulating an Online Strategy.

Understanding the Web Landscape.

Advertising on the Web.

ORGANIZATION.

Staffing.

Web Roles.

Starting a Start-Up.

Growing Your E-Commerce Organization.

Outside Resources.

PROJECT MANAGEMENT.

Project Organization.

Specification.

Development to Launch and Beyond.

Notes.

Glossary.

Index.

About the Authors.
See More
MICHAEL DRAPKIN is the founder and Principal of Drapkin Technology Corp., a business technology and e-commerce consultancy with clients that include Reader's Digest, Banker's Trust, United Parcel Service, IBM, and Mt. Sinai Hospital, among others. Drapkin has previously published two books.
JON LOWY is Director of Internet Architecture for Deutsche Bank's online investment banking division, eGCI, which is charged with developing online trading and research systems for retail and institutional clients on a worldwide basis. Prior to this position, he was Chief eCommerce Architect for Gateway. Lowy is a founder and the architect of Softwax.com, a web-based peer-to-peer system that allows communities of users to share files safely and conveniently.
DANIEL MAROVITZ is the Director of Internet Strategy for Deutsche Bank. Prior to joining Deutsche Bank, Marovitz held positions at Dow Jones and Gateway. He worked directly with the president of Gateway to establish the company's website and intranet. Marovitz also worked for iVillage as their vice president of commerce.
See More