Culture of Human Tumor Cells
ISBN: 978-0-471-43853-3
452 pages
November 2003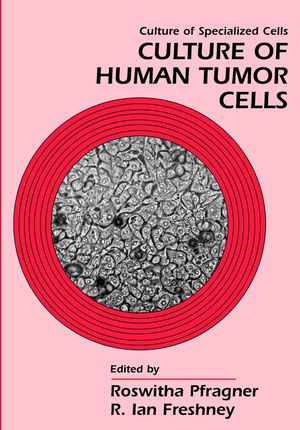 This comprehensive resource provides stepwise protocols for the in vitro cultivation of the major types of human tumors. Written in a reader-friendly style, this book is organized by specific tumor, discussing cultures for lung, gastric, colorectal, pancreas, bladder, prostate, ovary, cervix, mammary carcinoma, myoepithelium, squamous, melanoma, lymphoma, glioma, and neuroendocrine tumors. Detailed techniques for initiation, propagation, and characterization of established cell lines are presented. Drug treatment, selection, differentiation, assays for malignant cells, risks, and applications are discussed. An extensive listing of vendors for equipment and other cell culture products is also included.
See More
Preface.
Contributors.
List of Abbreviations.
1. Growth of Human Lung Tumor Cells in Culture (Reen Wu).
2. Culture of Normal and Malignant Gastric Epithelium (Jae-Gahb Park, Ja-Lok Ku, Hee-Sung Kim, So-Yeon Park and Michael J. Rutten).
3. Establishment of Cell Lines from Colon Carcinoma (Robert H. Whitehead).
4. Pancreatic Cancer-Derived Cultured Cells: Genetic Alterations and Application to an Experimental Model of Pancreatic Cancer Metastasis (Haruo Iguchi, Kazuhiro Mizumoto, Masaki Shono, Akira Kono and Soichi Takiguchi).
5. The Establishment and Characterization of Bladder Cancer Cultures In Vitro (Vivian X. Fu, Steven R. Schwarze, Catherine A. Reznikoff and David F. Jarrard).
6. Long-term Culture of Normal and Malignant Human Prostate Epithelial Cells (Robert K. Bright and Jennifer D. Lewis).
7. The Development of Human Ovarian Epithelial Tumor Cell Lines from Solid Tumors and Ascites (Anne P. Wilson).
8. Culture of Cervical Carcinoma Tumor Cell Lines (Peter Stern, Catherine West and Deborah Burt).
9. Primary Culture of Human Mammary Tumor Cells (Valerie Speirs).
10. Myoepithelium: Methods of Culture and Study (Sanford H. Barsky and Mary L. Alpaugh).
11. Multistage Head and Neck Squamous Cell Carcinoma (Kirsten G. Edington, Isabella J. Berry, Margaret O'Prey, Julie E. Burns, Louise J. Clark, Roy Mitchell, Gerry Robertson, David Soutar, Lesley W. Coggins and E. Kenneth Parkinson).
12. Culture of Melanocytes from Normal, Benign, and Malignant Lesions (Ruth Halaban).
13. Establishment and Culture of Human Leukemia-Lymphoma Cell Lines (Hans G. Drexler).
14. In Vitro Culture of Malignant Brain Tumors (John L. Darling).
15. Culture of Human Neuroendocrine Tumor Cells (Roswitha Pfragner, Annemarie Behmel, Elisabeth Ingolic and Gerhard H. Wirnsberger).
Suppliers).
Index.
See More