Textbook
Visión y voz, A Complete Spanish Course, Complete Set, 3rd Edition
ISBN: 978-0-471-44310-0
512 pages
July 2002, ©2003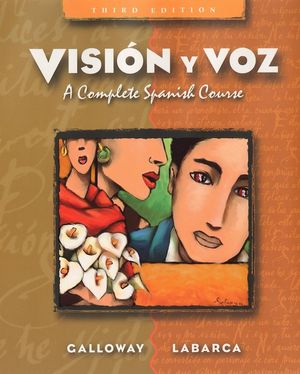 Please note:
This title also has a student CD package available. To add this item to your shopping cart,
click here
(not the button above).
Visión y voz 3e adopts a fresh, easy-to-use, discourse-based approach that offers unique, input-rich activities that accommodate a variety of teaching and learning styles. Interactive, learner-centered, popular, and effective, this Beginning Spanish program engages students to experience the world through its variety of people and places. Students learn to use Spanish to sound their own voices and express their own views, to speak Spanish in real professional and personal situations—and to do it well!
See More
Capitulo 1 Hola, ¿que tal?
Capitulo 2 ¿Como somos?
Capitulo 3 ¡Viva el finsemanismo!
Capitulo 4 Quiero escaparme de la rutina
Capitulo 5 Los hitos de la vida
Capitulo 6 Asuntos de familia
Capitulo 7 ¡Buen provecho!
Capitulo 8 La buena mesa
Capitulo 9 Hogar, dulce hogar
Capitulo 10 Historias de mi niñez
Capitulo 11 ¿Que me pongo?
Capitulo 12 El fisico es muy importante
Capitulo 13 Vida sana
Capitulo 14 Ciudades de ahora y de siempre
Capitulo 15 ¿Que nos reserva el futuro?

Verbos
Diccionario español-ingles
Diccionario inges-español
Indice
See More
Streamlined material within every chapter to gain focus and precision in and out of the classroom. This creates a more student- and teacher-friendly text, and is especially helpful to graduate teaching assistants who may be teaching for the first time.

New or revised, stream-lined chapter opening material
New art!
Revised Imágenes y palabras vocabulary presentation and practice.
Cultura—Visión and Voz boxes will be reduced in number and length, and will be renamed Voces hispanas. These sections are shorter and more activity-oriented than the previous editions and are tied closely to the content of the chapter.
Streamlined Gramática explanations and examples. More Práctica and personalized exercises and activities.
Chapter-ending Síntesis—The Voces del mundo hispánico has been renamed Síntesis and features chapter synthesizing five-skill wrap-up activities with an optional Para escribir section.

Incorporation of the Internet into the program and extension of learning and practice beyond the traditional textbook and classroom. While many students have surfed the Internet on their own, most do not use it in their own language learning. There are a wealth of language learning resources available online as well as source material for a new type of authentic text and integrative activity. The Third Edition of Visión y voz thoroughly integrates web-activities into every chapter and extends traditional Workbook and Lab Manual texts to web-based activities and exercises.
Course Management System
See More
Web-based, discovery approach to culture. Cross-cultural discovery is an integral aspect of language learning. Through rich in-text and web-based authentic readings and interactive activities, Visión y voz encourages students to think independently and to dig more deeply into themes of interest to them. Visión y voz explores and expands traditional and contemporary cultural contexts reflected in the language, images, perspectives, and artistic expression of peoples around the world.


Recognition before production. Every chapter presents new items through recognition before requiring student production. Chapters open by introducing the theme through personalized questions and then exploring a variety of perspectives on the theme through readings or realia that foreshadow the vocabulary and structures of the chapter.



Dynamic visual vocabulary presentation and practice. Visual, contextualized, and manageable Imágenes y palabras clusters illustrate the core productive vocabulary of the chapter. Words and expressions have been carefully selected for their frequency of use and their high interest level.



Streamlined grammar explanations. Explanations are written in functional, learner-centered language that avoid technical linguistic terminology. More complex structural features are broken down throughout the chapter or across chapters to lessen the learning load and increase proficiency in use. Grammar constructions do not drop out of sight at the end of the chapter, but are consistently recycled throughout subsequent chapters.



Systematic recycling. Recognizing that durable learning and flexible use of language require constant reinforcement and reconnection of words, structures, and concepts, great care has been taken in Visión y voz to recombine and transfer previous learning into new contexts where it serves as the foundation for integrating new learning.



Cooperative learning. The approach—from the presentation through guided and open-ended practice—fosters a sense of community in the classroom and advances the use of Spanish to connect people to one another. Students participate in natural, motivating conversations; interview and survey classmates; exchange opinions and recommendations; collaborate to collect reports and summarize exchanges and to give written or oral presentations; and engage in role play or other simulations.



Guidance in learning how to learn. Visión y voz focuses on the affective, social, and strategic needs of learners. Strategy-based activities help students lock in and connect vocabulary for long-term storage, integrate new grammatical structures for use, map out thoughts prior to speaking or writing, interpret cultural inferences, and apply cross-cultural insights. Annotations in the student text highlight the strategies students are using as they learn and use Spanish.
See More
Learn more about