Architect's Essentials of Cost Management
ISBN: 978-0-471-44359-9
320 pages
April 2002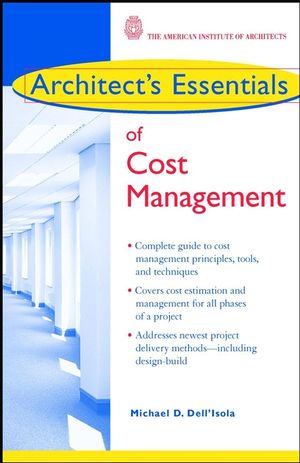 Written by a cost-control expert with more than thirty years of design and building expertise, this volume in the Professional Practice Essentials Series gives you practical, user-friendly guidance on how to better manager costs through all phases of a project. Dell'Isola first explains the basics of cost management-from estimating costs during the design phase to managing costs during construction and even after occupancy. He then covers all of the tools and techniques available to architects/designers and explains how best to use them. A number of useful case studies clearly show how the author's principles work in real-life situations.
See More
Foreword.

Acknowledgments.

1 Introduction.

Terminology.

Cost Management Considerations.

Cost Management Methodology.

2 Building Economics.

Breakdown of Construction Costs.

Cost Components.

Distribution of Hard Costs.

Factors That Influence Building Costs.

Conclusions.

3 Cost-Estimating Methodology.

Establishing Standard Formats.

Identifying and Managing Cost Drivers.

Estimate Preparation Principles.

Cost-Estimating Methods.

Dealing with Escalation and Contingencies.

Risk Management and Range Estimating.

Special Estimating Challenges.

Value Management.

Life-Cycle Costing.

Conclusions.

4 Cost-Estimating Tools.

Interpreting Cost Information.

Using Cost Indexes.

Referencing Published Cost Information.

Developing and Maintaining CostData Files.

Doing Computer-Assisted Estimating.

Conclusions.

5 Cost Management Methodology.

Integrating the Cost Management Process.

Planning, Programming, and Budgeting.

Budgeting Methods.

Managing Costs during Design.

Implementing Construction PhaseCost Management.

Understanding the Impact of DeliveryMethods on Cost Management.

Conclusions.

References.

Index.
See More
MICHAEL D. DELL'ISOLA, PE, CVS, Senior Vice President of the Alexandria, Virginia, office of Hanscomb, Inc., has thirty years of experience in technical and management areas specializing in cost control, value engineering, technical facilitation/partnering, life-cycle costing, and project management. He serves as a member of the board of directors of the Construction Sciences Research Foundation, the Construction Management Association of America, and SAVE, the Value Society, and is an internationally recognized speaker on cost, value, construction economics, and project delivery.
See More
More in this series