AmericanHeritage, American Voices: Colonies and Revolution
ISBN: 978-0-471-44391-9
Hardcover
144 pages
January 2003
US $22.95

Add to Cart
This price is valid for United States. Change location to view local pricing and availability.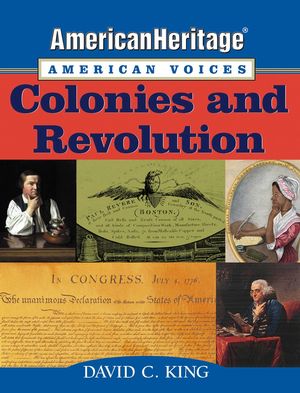 Other Available Formats:
E-book
Introduction to the American Heritage? American Voices Series.

Introduction to Colonies and Revolution.

PART I: COLONIZING A NEW WORLD.

Christopher Columbus Signs a Contract.

Columbus Describes His Voyage.

The Mystery of Roanoke.

Instructions to the Virginia Company.

The Lure of Gold.

Strict Disciplineat Jamestown.

The Legend of Pocahantas.

The First Settlements in New England.

The Survival of Plymouth Plantation.

A City Upon a Hill.

A Difficult Voyage.

Keeping a Sense of Humor.

Indenture: Encouraging Newcomers.

Pennsylvania: Drawing Colonists from the Continent.

PART II: DAILY LIFE IN COLONIAL AMERICA.

New England Farm Villages.

All in a Day's Work.

Life in Williamsburg.

Education and Morals.

Washington's Rules for Civil Behavior.

Clothing in the Age of Homespun.

Wealth and Fashion.

he Salem Witch Trials.

Judge Sewall's Apology.

Anne Bradstreet: America's First Poet.

Eliza's Gift to South Carolina.

Advice in Choosing a Husband.

Advice on Being Feminine.

Living Well.

Growing Up in Boston.

Benjamin Franklin: The First American.

"What then is the American?"

PART III: MANY PEOPLE, MANY VOICES.

Slavery on a Virginia Plantation.

A Traveler's View.

The Nightmare Atlantic Crossing.

The Mennonites Oppose Slavery.

Thomas Jefferson's Dilemma.

First Encounters with Native Americans.

Ideas of Land Ownership.

The Story of a "White Indian".

Religion: A Great Awakening.

Defending Diversity: Freedom of the Press.

PART IV: PRELUDE TO REVOLUTION.

Patriots Protest a New Tax.

Beyond Peaceful Protest.

The Stamp Act Congress.

The Beginning of a National Identity.

The Boston Massacre.

The Boston Tea Party.

"Give Me Liberty or Give Me Death".

PART V: THE AMERICAN REVOLUTION.

"One If By Land, Two If By Sea".

The Battle of Lexington.

The Battle of Concord.

Patriot Fighting Men.

Washington Takes Charge.

Letter from a Patriot.

A Patriot Marching Song.

Deborah Champion's Ride.

A Black Poet Writes of Freedom.

DEclaring Independence.

Thirteen United States Declare Independence.

"We Must All Hang Together".

"Remember the Ladies".

The American Army and Militia.

Sergeant Smith's Turkey Prisoners.

The American Turtle.

The Times that Try Men's Souls.

Washington's Christmas Surprise.

Winter at Valley Forge.

Benedict Arnold: "Treason of the Blackest Dye".

The Turn Toward Victory.

The Victory at Yorktown.

PART VI: CREATING A NATIONAL GOVERNMENT.

What Form of Government?

Shay's Rebellion.

The Meeting of the Constitutional Convention.

Surviving Philadelphia's Summer.

The Constitution.

The Bill of Rights.

Sources.

Index.