The CRB Commodity Yearbook 2003
ISBN: 978-0-471-44470-1
384 pages
May 2003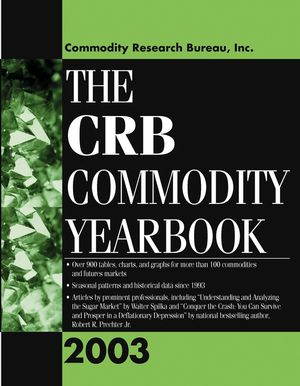 The single most comprehensive source of commodity and futures market information available
Since 1939, professional traders, commercial hedgers, portfolio managers, and speculators have come to regard The CRB Commodity Yearbook as the "bible" of the industry. Here is a wealth of authoritative data, gathered from government reports, private industry, and trade and industry associations, all compiled by the Commodity Research Bureau, the organization of record for the entire commodity industry itself.
Absolutely essential for identifying changing trends in supply and demand and for projecting important price movements, the Yearbook gives the investor:
Worldwide supply/demand and production/consumption data for all the basic commodities and futures markets–from A(luminum) to Z(inc), including all the major markets in interest rates, currencies, energy, and stock index futures
Over 900 tables, graphs, and price charts of historical data, many of which show price history dating back to 1900
Concise introductory articles that describe the salient features of each commodity and help put the quantitative information in perspective
Articles by prominent professionals on key markets and important issues concerning the commodity industry. The 2003 Yearbook features articles by prominent professionals, including "Understanding and Analyzing the Sugar Market" by Walter Spilka and "Conquer the Crash: You Can Survive and Prosper in a Deflationary Depression" by national bestselling author, Robert R. Prechter Jr.
For anyone dealing in commodities, The CRB Commodity Yearbook 2003 offers an abundance of valuable information and indispensable guidance for decision-making.
See More
Acknowledgements.
The Commodity Price Trend.
CRB Indexes.
Understanding and Analyzing the Sugar Market.
Conquer the Crash: You Can Survive and Prosper in a Deflationary Depression.
Chicago Exchanges Stand Tall Once More.
Futures Volume Highlights, U.S.
Futures Volume Highlights, Worldwide.
Conversion Factors.
Aluminum.
Antimony.
Apples.
Arsenic.
Barley.
Bauxite.
Bismuth.
Broilers.
Butter.
Cadmium.
Canola (Rapeseed).
Cassava.
Castor Beans.
Cattle and Calves.
Cement.
Cheese.
Chromium.
Coal.
Cobalt.
Cocoa.
Coconut Oil and Copra.
Coffee.
Coke.
Copper.
Corn.
Corn Oil.
Cotton.
Cottonseed and Products.
CRB Futures Index.
Currencies.
Diamonds.
Eggs.
Electric Power.
Fertilizers (Nitrogen, Phosphate & Potash).
Fish.
Flaxseed and Linseed Oil.
Fruits.
Gas.
Gasoline.
Gold.
Grain Sorghum.
Hay.
Heating Oil.
Hides and Leather.
Hogs.
Honey.
Interest Rates, U.S.
Interest Rates, Worldwide.
Iron and Steel.
Lard.
Lead.
Lumber and Plywood.
Magnesium.
Manganese.
Meats.
Mercury.
Milk.
Molasses.
Molybdenum.
Nickel.
Oats.
Olive Oil.
Onions.
Oranges and Orange Juice.
Palm Oil.
Paper.
Peanuts and Peanut Oil.
Pepper.
Petroleum.
Plastics.
Platinum-Group Metals.
Pork Bellies.
Potatoes.
Rayon and Other Synthetic Fibers.
Rice.
Rubber.
Rye.
Salt.
Sheep and Lambs.
Silk.
Silver.
Soybean Meal.
Soybean Oil.
Soybeans.
Stock Index Futures, U.S.
Stock Index Futures, Worldwide.
Sugar.
Sulfur.
Sunflowerseed and Oil.
Tall Oil.
Tallow and Greases.
Tea.
Tin.
Titanium.
Tobacco.
Tung Oil.
Tungsten.
Turkeys.
Uranium.
Vanadium.
Vegetables.
Wheat and Flour.
Wool.
Zinc.
See More
Commodity Research BUREAU, Inc., a division of Logical Systems, Inc., is the country's largest resource for financial statistics, historical data, and charting services. Information is available online, on CD-ROM, and through newsletters, charting services, and wire reports. Located in Chicago, the company is regarded as the leading source of information on international and domestic commodity movements.
See More
Learn more about