E-book
Handbook of Alternate Assets
ISBN: 978-0-471-44640-8
512 pages
February 2003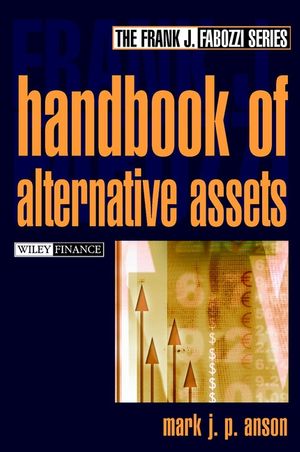 The Definitive 4-in-1 Reference Guide to Alternative Assets

Many books cover individual alternative asset classes, but none offers a comprehensive examination of the four major classes as presented in the Handbook of Alternative Assets. This complete handbook merges data and strategies scattered in numerous volumes into one handy guide for the serious investor. The four major classes discussed are:
* Hedge funds
* Commodity and managed futures
* Private equity
* Credit derivatives

Organized by sections-one for each alternative asset class-the Handbook of Alternative Assets demonstrates the benefits and risks of each alternative asset and reveals how these asset classes can be incorporated into a diversified portfolio.

Through expert advice, the Handbook of Alternative Assets details each of four major alternative asset classes and breaks down their quantitative statistical value as well. With this comprehensive handbook on your desk, you'll begin to use alternative asset classes to both hedge and expand any portfolio.
See More
About the Author.

Preface.

What is an Alternative Asset Class?

SECTION I: HEDGE FUNDS.

Introduction to Hedge Funds.

Establishing a Hedge Fund Investment Program.

Selecting a Hedge Fund Manager.

Due Diligence for Hedge Fund Managers.

Risk Management Part 1: Hedge Fund Return Distributions.

Risk Management Part II: Additional Hedge Fund Risks.

Regulation of Hedge Funds.

Should Hedge Funds Be Institutionalized?

SECTION II: COMMODITY AND MANAGED FUTURES.

Introduction to Commodities.

Investing in Commodity Futures.

Commodity Futures in a Portfolio Context.

Managed Futures.

SECTION III: PRIVATE EQUITY.

Introduction to Venture Capital.

Introduction to Leveraged Buyouts.

Debt as Private Equity.

The Economics of Private Equity.

Alternative Investment Strategies in Private Equity.

Performance Measurement for Private Equity.

SECTION IV: CREDIT DERIVATIVES.

Introduction to Credit Derivatives.

Collateralized Debt Obligations.

SECTION V: CORPORATE GOVERNANCE.

Corporate Governance as an Alternative Investment Strategy.

Index.
See More
MARK J. P. ANSON, PhD, is the Chief Investment Officer at Calpers. Prior to joining Calpers, he was portfolio manager at OppenheimerFunds, a registered options principal in equity derivatives for Salomon Brothers Inc., and a practicing attorney specializing in futures and derivatives markets. Dr. Anson earned his law degree from the Northwestern University School of Law and his PhD and master's in finance from the Columbia Graduate School of Business. He has also earned the Chartered Financial Analyst, Certified Public Accountant, Certified Internal Auditor, and Certified Management Accountant degrees. Dr. Anson is a frequent contributor to academic and professional publications on the topics of risk management, derivatives, and portfolio management.
See More
More in this series