E-book
PricewaterhouseCoopers' Guide to the New Tax Rules
ISBN: 978-0-471-44680-4
272 pages
January 2003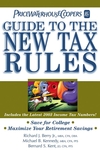 * Save for College
* Maximize Your Retirement Savings


What do the new tax laws mean to you and your money?

Keeping up with changing tax laws and rules is always hard. Now it's more complicated than ever. There's the Economic Growth and Tax Relief Reconciliation Act of 2001, the Victims of Terrorism Tax Relief Act of 2002, the Job Creation and Worker Assistance Act of 2002, and more. Some new tax rules will be "phased-in" and "phased-out" for years to come. How can you make sense of it all?

PricewaterhouseCoopers Guide to the New Tax Rules answers your most frequent questions about the tricky new tax laws. Using plain language everyone can understand, the trusted tax professionals at PricewaterhouseCoopers explain how the new rules affect your personal finances and how you can benefit from the newly available opportunities. They outline the best ways to plan for your retirement, pay for your children's education, maximize tax savings, and much more.

The valuable advice in this guide will:
* Arm you with unique insights, savvy suggestions, and vivid examples on the new tax provisions for this year
* Hand you proven tips, techniques, and methods for taking best advantage of the new tax rules
* Help you plan for new rules that don't take effect until 2003 or later
* And much more
See More
Acknowledgments.
Introduction.
PART I: RECENT TAX LAWS AFFECT TAX PLANNING FOR THE DECADE.
Chapter 1. The 2001 and 2002 Tax Acts.
PART II: YEAR-ROUND TAX PLANNING STRATEGIES.
Chapter 2. Investments and Stock Options.
Chapter 3. Retirement Planning.
Chapter 4. Tax Advantages of Home Ownership.
Chapter 5. How to Maximize Savings for Education.
Chapter 6. Estate Planning Ideas.
PART III: YEAR-END TAX SAVING STRATEGIES.
Chapter 7. Quick Planning Guide.
Chapter 8. Accelerating Deductions.
Chapter 9. Deferring Income.
Chapter 10. Year-End Planning for Business Owners.
PART IV: A NUTS-AND-BOLTS REVIEW.
Chapter 11. Basic Tax Concepts.
About the Authors.
Index.
See More
PricewaterhouseCoopers (www.pwcglobal.com) is the world's largest professional services organization. Drawing on the knowledge and skills of more than 150,000 people in 150 countries, we help our clients solve complex business problems and measurably enhance their ability to build value, manage risk, and improve performance in an Internet-enabled world. PricewaterhouseCoopers refers to the member firms of the worldwide PricewaterhouseCoopers organization.
See More