E-book
Crash Profits: Make Money When Stocks Sink AND Soar
ISBN: 978-0-471-44881-5
368 pages
March 2003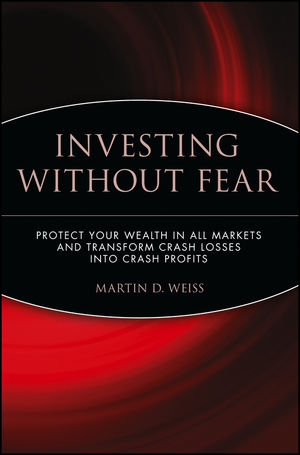 Smart investing strategies from bestselling author and America's consumer advocate for financial safety
Filled with against-the-grain attitude and seasoned market wisdom, Crash Profits explains not only how to survive, but how to make money before, during, and after a crash. Using real examples fresh from the financial pages, Weiss delineates the full range of risks facing the average American. He shows readers how to see through the lies that Wall Street tells and how to find safer alternatives to stock investing, as well as what to sell, how to sell, and when to sell (and when not to sell). Here's the unvarnished truth about investing today, coupled with the strategies every American can use to turn windfall profits while others are losing their shirts.
Martin D. Weiss, PhD (Palm Beach, FL), is Chairman of Weiss Research in Palm Beach, Florida. His previous book, The Ultimate Safe Money Guide (0-471-15202-1), was a Wall Street Journal, BusinessWeek, and New York Times business bestseller
See More
Introduction.
1. The Broker's Hidden Agenda.
2. The Bubble.
3. The Wall Street Hype.
4. The Bubble Bursts.
5. The $17,000 Toilet Kit.
6. Sell These Stocks Now!
7. Get Your Money to Safety.
8. The Ballooning Budget Deficit.
9. The Bond Market Bubble.
10. The Real Market Bubble.
11. The Winning Minority.
12. The Team.
13. Hidden Risks.
14. Deflation!
15. The Fall of the Blue Chips.
16. Move Your Account!
17. An Appeal to Action.
18. Vertigo.
19. The Big Bailout.
20. The Great Rally.
21. The Gap.
22. The Blame Game.
23. Rock Bottom.
24. The Darkest Day.
25. A True Recovery.
Endnotes.
Index.
See More
MARTIN D. WEISS, PHD, is Chairman of Weiss Ratings, Inc., in Palm Beach, Florida. The company issues safety ratings on banks and savings institutions, insurance firms, brokerages, and HMOs. It is the only major ratings company that receives no remuneration from the companies it covers. Weiss has testified before Congress several times and has appeared on ABC, CBS, and NBC. His previous book, The Ultimate Safe Money Guide (Wiley), was a New York Times business bestseller.
See More