The Interview Kit, 3rd Edition
ISBN: 978-0-471-44925-6
248 pages
September 2003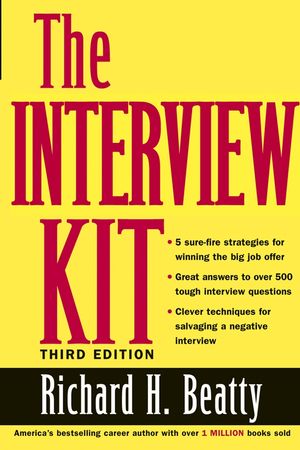 The new revised edition of The Interview Kit shows job seekers how to succeed in any interview. With answers to over 500 tough questions and strategies on what to say and how to say it, interviewees need never be tongue-tied again. The Interview Kit offers five proven strategies for making the best impression and expert advice on negotiating salary and benefits after the successful interview. This new and updated edition is better than ever, with new advice on what to do when the interview doesn't go well. Based on his three decades of career experience and research, Beatty provides the proven advice, step-by-step guidance, and all the essential tools job hunters need to succeed.
See More
1. Before the Interview.
2. The Interview Day.
3. Five Winning Interview Strategies.
4. Damage Control in the Interview.
5. Interview Questions—Strengths.
6. Interview Questions—Weaknesses.
7. Interview Questions—Education.
8. Interview Questions—Job Performance.
9. Interview Questions—Work Performance.
10. Interview Questions—Motivation and Drive.
11. Interview Questions—Personal Traits and Characteristics.
12. Interview Questions—Interpersonal Skills.
13. Interview Questions—Preferred Work Environment.
14. Interview Questions—Preferred Boss's Style.
15. Interview Questions—Planning and Organizing Skills.
16. Interview Questions—Business Philosophy.
17. Interview Questions—Operating Style.
18. Interview Questions—Communications Skills.
19. Interview Questions—Management Style.
20. Interview Questions—Creativity.
21. Interview Questions—Entrepreneurship (Risk Taking).
22. Interview Questions— Persistence.
23. Closing the Interview.
24. Managing the Silence—What to Do When You Hear Nothing after the Job Innterview.
25. Turning No into Yes—Strategies for Reversing a Negative Employment Decision.
26. Negotiating the Job Offer—Getting What You Want.
Index.
See More
RICHARD H. BEATTY is President and CEO of Brandywine Consulting Group, a leading executive search and outplacement firm. His bestselling career guides have sold over one million copies and include The Resume Kit, The Five-Minute Interview, 175 High-Impact Cover Letters, 175 High-Impact Resumes, How to Write a Resume if You Didn't Go to College, and The Perfect Cover Letter, all available from Wiley.
See More