E-book
Delivering Voice over IP Networks, 2nd Edition
ISBN: 978-0-471-44935-5
512 pages
February 2003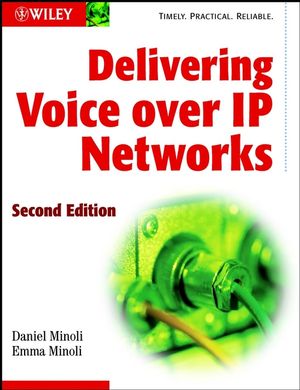 Includes new coverage on the advances in signaling protocols, second-generation switching and the development of non-switched alternatives, and the implementation lessons learned.
Contains in-depth coverage of network architectures used to support VoIP, performance and voice quality considerations, compression and integration methods for IP tranmissions.
See More
PREFACE.

ACKNOWLEDGMENT.

ABOUT THE AUTHORS.

Chapter 1: Introduction and Motivation.

1.1 INTRODUCTION.

1.2 DRIVERS FOR VOICE OVER IP.

1.3 APPROACHES FOR IP-BASED VOICE SYSTEMS.

1.4 THE FUTURE.

REFERENCES.

Chapter 2: An Overview of IP, IPOATM, MPLS, and RTP.

2.1 INTRODUCTION.

2.2 INTERNET PROTOCOL.

2.3 IP OVER ATM (IPOATM).

2.4 BASIC SYNOPSIS OF MPLS.

2.5 REAL-TIME TRANSPORT PROTOCOL (RTP).

2.6 RTP CONTROL PROTOCOL (RTCP).

2.7 STREAM CONTROL TRANSMISSION PROTOCOL (SCTP).

2.8 ATM QOS MECHANISMS.

REFERENCES.

NOTES.

Chapter 3: Issues in Packet Voice Communication.

3.1 INTRODUCTION.

3.2 TRAFFIC MODELS.

3.3 PERFORMANCE CRITERIA.

3.4 LINK MODEL.

3.5 RESULTS.

3.6 CONCLUSION.

REFERENCES.

Chapter 4: Voice Technologies for Packet-Based Voice Applications.

4.1 INTRODUCTION.

4.2 G.727: ADPCM FOR PACKET NETWORK APPLICATIONS.

4.3 EXAMPLE OF APPLICATION.

REFERENCES.

NOTES.

Chapter 5: Technology and Standards for Low-Bit-Rate Vocoding Methods.

5.1 INTRODUCTION.

5.2 INTRODUCTION TO G.729 AND G.723.1.

5.3 G.723.1.

5.4 G.728.

5.5 G.729.

5.6 EXAMPLE OF APPLICATIONS.

REFERENCES.

NOTES.

Chapter 6: Voice over IP and the Internet.

6.1 INTRODUCTION.

6.2 IP/INTERNET BACKGROUND.

6.3 VOICE TRANSMISSION AND APPROACHES IN ATM, FRAME RELAY, AND IP.

6.4 QOS PROBLEMS AND SOLUTIONS.

6.5 PROTOCOLS FOR QOS SUPPORT FOR AUDIO AND VIDEO APPLICATIONS.

6.6 INTERNET TELEPHONY SERVERS (ITSS).

6.7 THE VOICE OVER IP/INTERNET MARKET.

6.8 VOIP REGULATORY ISSUES.

6.9 CONCLUSION.

REFERENCES.

NOTES.

Chapter 7: Signaling Approaches.

7.1 INTRODUCTION.

7.2 SIGNALING IN CIRCUIT-SWITCHED NETWORKS.

7.3 H.323 STANDARDS.

7.4 MGCP.

7.5 SIP.

7.6 OTHER IETF SIGNALING EFFORTS.

7.7 MEGACO.

7.8 SIGTRAN PROTOCOLS.

7.9 SCTP.

REFERENCES.

NOTES.

Chapter 8: Quality of Service.

8.1 INTRODUCTION.

8.2 BACKGROUND.

8.3 QOS APPROACHES.

8.4 QOS DETAILS.

8.5 CASE STUDY.

REFERENCES.

NOTES.

Chapter 9: Voice over MPLS and Voice over IP over MPLS.

9.1 INTRODUCTION AND BACKGROUND.

9.2 MOTIVATIONS.

9.3 BASIC MPLS FEATURES.

9.4 QOS CAPABILITIES.

9.5 VOICE APPLICATIONS.

REFERENCES.

NOTES.

Chapter 10: Telephone Number Mapping (ENUM).

10.1 INTRODUCTION.

10.2 BACKGROUND.

10.3 INTRODUCTION TO ENUM.

10.4 SUMMARY OF CAPABILITIES AND ISSUES.

10.5 NUMBER PORTABILITY.

10.6 E.164 NUMBERS AND DNS.

10.7 APPENDIX TO THE RFC 2916 SCENARIO.

REFERENCES.

NOTES.

Chapter 11: Carrier Applications.

11.1 INTRODUCTION AND OPPORTUNITIES.

11.2 WHERE THE ACTION SHOULD BE.

11.3 CARRIER VOICE NETWORKS.

11.4 DEPLOYMENT AND ISSUES.

11.5 ENTERPRISE APPLICATIONS.

11.6 INTERNATIONAL OPPORTUNITIES.

11.7 EQUIPMENT/VENDOR TRENDS.

REFERENCES.

NOTES.

INDEX.
See More
DANIEL MINOLI is Managing Director for Econsultex, Inc., and has twenty-six years of corporate experience working with enterprise communication technologies such as packet voice, frame relay, IP, Internet, and wireless. Most recently, he was founder or cofounder of a number of high-tech companies including InfoPort Communications Group, an optical and gigabit ethernet metro carrier. A pioneer in the field, Minoli's research into voice over data began in 1975, and he has worked on several major implementations.

EMMA MINOLI is founder and Managing Director of Red Hill Consulting, a high-tech consultancy specializing in the area of VoIP, multimedia, Web, and e-commerce technologies.
See More