Construction Contracting: A Practical Guide to Company Management, 7th Edition
ISBN: 978-0-471-44988-1
656 pages
March 2005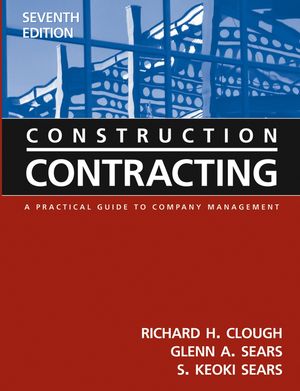 The industry's leading professional reference for four decades--fully revised and updated

Construction Contracting remains a bestseller in the construction industry forty years after its first publication. A cornerstone of the construction professional's library, this text presents the hard-to-find information essential to successfully managing a construction business, and applies to building, heavy civil, high-tech, and industrial construction endeavors alike.

This new Seventh Edition features important changes in construction insurance, tax law, labor law, and bonding and surety. It includes:
* Contemporary contracting methods such as design/build and best value/competitive negotiation
* Computer assisted estimating, project accounting, scheduling, and document control
* Emerging technologies such as Geographic Information Systems (GIS)
* Critical updates to standard construction contracts, including the American Institute of Architects (AIA), the Construction Management Association of America (CMAA), the Associated General Contractors of America (AGC), and the Design Build Institute of America (DBIA)


Construction Contracting also features expanded coverage of such basics as business ownership and company organization, cost estimating, bidding procedures and strategies, project time and cost management, labor relations, and project safety.

This edition incorporates many special features, including new and updated contracting forms, the latest Construction Industry Arbitration Rules, a companion Web site, and a CD-ROM containing a complete library of forms from the AIA, AGC, and Engineers Joint Contract Documents Committee.

Construction Contracting, Seventh Edition is a complete working resource for the construction professional in the field or office and an indispensable preparatory tool for students.
See More
Preface.
List of Figures.
1. The Construction Industry.
2. Business Ownership.
3. Company Organization.
4. Drawings and Specifications.
Cost Estimating and Bidding.
6. Construction Contracts.
7. Contract Surety Bonds.
8. Construction Insurance.
9. Business Methods.
10. Project Management and Administration.
11. Project Time Management.
12. Project Cost Management.
13. Labor Law.
14. Labor Relations.
15. Project Safety.
Appendix A: AIA Document B141–1997, Standard Form of Agreement Between Owner and Architect with Standard Form of Architect's Services.
Appendix B: MasterFormat TM 2004 Edition—Division Numbers and Titles.
Appendix C: AIA Document A201–1997, General Conditions of the Contract for Construction.
Appendix D: CMAA Document A-3 (2003 Edition), General Conditions Between Owner and Contractor.
Appendix E: Supplementary Conditions.
Appendix F: Solicitation, Offer, and a Reward (GSA-FAR Standard Form 1442).
Appendix G: Instructions to Bidders.
Appendix H: A Strategy of Bidding.
Appendix I: Proposal for a Lump-Sum Contract.
Appendix J: AIA Document A101-1997, Standard Form of Agreement Between Owner and Contractor Where the Basis of Payment Is a Stipulated Sum.
Appendix  K: AIA Document A111-1997, Standard Form of Agreement Between Owner and Contractor Where the Basis of Payment Is the Cost of the Work Plus a Fee with a Negotiated Guaranteed Maximum Price.
Appendix  L: American Arbitration Association, Construction Industry Arbitration Rules and Mediation Procedures (Including Procedures for Large., Complex Construction Disputes).
Appendix  M: AGC Document 603, Standard Short Form Agreement Between Contractor and Subcontractor (Where Contractor Assumes Risk of Owner Payment).
Appendix  N: AGC Document 604, Standard Short Form Agreement Between Contractor and Subcontractor (Where Contractor and Subconstructor Share Risk of Owner Payment).
Appendix O: General Ledger Accounts About the CD-ROM.
Index.
See More
RICHARD H. CLOUGH, deceased, was the Dean of the College of Engineering, University of New Mexico. He was a Fellow of the American Society of Civil Engineers and has long been considered one of the leading American educators in construction engineering and management.
GLENN A. SEARS is an active consultant in construction technology and management. He is Emeritus Professor of Civil Engineering, University of New Mexico.
S. KEOKI SEARS is a Project Manager and owner of Project Catalyst Corporation, based in Durango, Colorado. He has extensive experience managing large heavy civil and high-tech construction projects worldwide.
See More
*Nearly 30% revised, with new chapters on  Design/Build, Emerging Technologies; Software for Estimating, Scheduling, Accounting and Document Control.
*Critical updates on construction contract documents to reflect major changes to AIA's B141, A101, and A201 contracts, as well as updates on construction law, construction insurance and construction liens and bonds.
*New Companion Web site, offering sample construction project management software, standard bid forms, and much more!
See More
Learn more about