Designing the Exterior Wall: An Architectural Guide to the Vertical Envelope
ISBN: 978-0-471-45191-4
400 pages
June 2005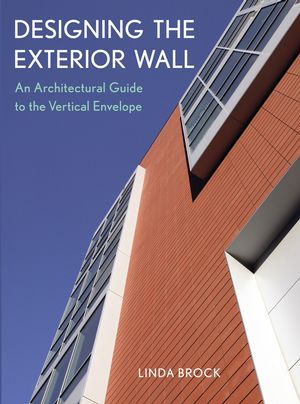 By presenting the basics of building science along with a prescribed set of details,
Designing the Exterior Wall
helps you understand why buildings fail and how they can be made more durable through design. Author Linda Brock connects the science and aesthetics of building envelopes through the examination of a variety of construction and cladding types. She features details from real world projects in a variety of climates, successful and unsuccessful case studies, and checklists you can use on your own projects.
Helps you reduce your liability by showing why building envelopes fail and how they can be designed to endure.
Moves from theory to actual construction by including hundreds of building envelope details from a broad array of projects and climates.
Integrates numerous contemporary case studies, including Frank Gehry's Experiential Music Center in Seattle (thin skins), Renzo Piano's Rue de Meaux housing in Paris (terra cotta cladding), and Mario Botta's San Francisco Museum of Modern Art (prefabricated brick panels).
Designing the Exterior Wall is a must-have book, whether you're an architect or a student. Order your copy today.
See More
Preface.
Acknowledgments.
Using This Book.
PART 1: CHOOSING THE COMPONENTS.
Chapter 1: Decisions That Affect the Exterior Wall.
1.1 Introduction to the Building Envelope.
1.2 Decisions Affecting Aesthetics, Function, Durability, and the Budget.
1.3 Climate and the Exterior Wall.
1.4 Function of the Exterior Wall.
1.5 Cladding Systems.
1.6 "Whole-Wall" Design.
1.7 Selecting and Positioning the Barriers and Retarders.
CHECKLIST: Preliminary Design Information and Decisions.
Chapter 2: Water Barriers and Flashings.
2.1 Managing Water.
2.2 Water Management Systems.
2.3 Selecting the Right Water Management System.
2.4 Water Barriers and Their Placement.
2.5 Installation.
2.6 Flashings.
2.7 Testing and Measuring Water Leakage.
2.8 Quick Notes: Water Ingress.
Chapter 3:  Air Barrier Systems, Vapor Retarders, and Insulation.
3.1 Stopping Air and Controlling Thermal and Vapor Transfer.
3.2 Air Movement: Loss of Conditioned and Vapor-Laden Air.
3.3 Vapor Transmission by Diffusion.
3.4 Heat Transfer by Conduction And Radiation.
Chapter 4: Sealant Joints.
4.1 Structural Forces and Differential Movement.
4.2 Expansion and Control Joints.
4.3 Joint Design.
4.4 Construction Tolerances.
4.5 Joint Components.
4.6 Installation of Liquid Sealants.
4.7 Maintenance.
4.8 Testing Sealants.
4.9 Quick Notes: Sealant Joints.
CHECKLIST: Selecting and Positioning Barriers and Retarders.
PART II: DETAILING FOR DURABILITY.
Chapter 5: Curtain Walls.
5.1 The Development of Curtain Walls.
5.2 Aluminum Glass Curtain Walls.
5.3 Metal- and Stone-Panel Curtain Walls.
5.4 Designing Curtain Walls with Glass, Metal, and Stone Panels.
5.5 Case Study.
5.6 Precast Concrete and Glass-Fiber Reinforced Concrete Panels.
5.7 How to Stay Out of Trouble When Designing Curtain Walls.
5.8 References.
Chapter 6: Anchored Brick Veneer.
6.1 Brick Veneer Anchored to the Steel-Stud Backup Walls of a Four- to Twenty-Story Building.
6.2 Wall Type A: Brick Veneer Anchored To Steel-Stud Backup.
6.3 Climate.
6.4 Is ABV/SS Risky Business?
6.5 Reducing Risk.
6.6 Repelling Water.
6.7 Accommodating Differential Movement with Expansion Joints.
6.8 Designing Parapet Veneer Panels: A Special Case.
6.9 Supplemental Information On ABV/SS Components.
6.10 ABV Details.
6.11 Case Study.
6.12 Other Systems.
6.13 References.
Chapter 7 Exterior Insulation Finish System (EIFS) and Concrete Masonry Walls.
7.1 Concrete Masonry Walls.
7.2 Single-Wythe Concrete Masonry: Face-Sealed Barrier Wall.
7.3 Exterior Insulation Finish System (EIFS).
7.4 Wall Type B: EIFS with Internal Drainage Plane on Concrete Masonry Wall.
7.5 EIFS Design.
7.6 EIFS Installation.
7.7 Maintenance.
7.8 EIFS Concerns.
7.9 Details: EIFS.
7.10 EIFS over Light-Gauge Steel or Wood Stud Walls.
7.11 Case Study.
7.12 Case Study.
7.13 References.
Chapter 8: Wood-Frame Construction, Stucco, and Fiber-Cement Siding.
8.1 Wood-Frame Construction.
8.2 Stucco.
8.3 Wall Type C: Three-Coat Stucco on Wood Frame with Internal Drainage Plane.
8.4 Stucco Design.
8.5 Stucco Application.
8.6 Maintenance.
8.7 Concerns with Stucco.
8.8 Details: Stucco.
8.9 Fiber-Cement Cladding.
8.10 Wall Type D: Fiber-Cement Board Siding with Drainage Cavity.
8.11 Fiber-Cement Siding Design.
8.12 Fiber-Cement Siding Installation.
8.13 Maintenance.
8.14 Concerns with Fiber-Cement Claddings.
8.15 Details: Fiber-Cement Siding.
8.16 Case Study.
8.17 References.
PART III: ADVANCING THE ENVELOPE.
Chapter 9: Terra-Cotta, EIFS, Stone, and Brick: Are They Durable?
9.1 Truth In Materials.
9.2 The Great Impostors: EIFS and Terra-Cotta.
9.3 Aesthetics and Durability: Can You Have Both with Carrara Marble?
9.4 Build It Right The First Time or Repair It Quickly: Anchored Brick Veneer Failures.
Chapter 10: Architect's Design Kit: Form, Surface, Color, and Thick and Thin Walls.
10.1 The Exterior Wall.
10.2 Aesthetic Kit: Form, Surface, and Color.
10.3 Westin New York at Times Square.
10.4 Experience Music Project, Seattle, Gehry Partners.
10.5 Comparisons: Mondrian Planes and Swoopy Forms.
10.6 Functional Kit: Thick and Thin Walls.
10.7 Vitra Conference Pavilion: Thicker Walls in Germany.
10.8 San Francisco Museum of Modern Art: Thin Brick That Works.
10.9 Are Two Walls Better than One?
10.10 Seattle Justice Center.
Chapter 11: Wood-Frame Construction: Designing for the Climate and the Future.
11.1 Durability—The Linchpin of Sustainability.
11.2 Vancouver, British Columbia: "The Look That Didn't Last".
11.3 Seattle: "When It Rains, It Pours In".
11.4 What Can Be Learned from the Leaky Condos?
11.5 How To Do It Right: Two Countries, Two Climates, and Two Solutions.
11.6 Home 2000 and Winter Rains of Vancouver, British Columbia.
11.7 KST-Hokkaido House and Heavy Snow Loads of Northern Japan.
11.8 What Can Be Learned from the Two Houses?
Appendix A: Hygrothermal Maps.
Appendix B: Building Form.
Notes.
Bibliography and Resources.
Index.
See More
LINDA BROCK, a registered architect in the United States and Canada, is an associate professor directing the building technology program in the School of Architecture at the University of British Columbia, Vancouver, Canada. She has given seminars on building envelope design and has conducted investigations of fa?ade failures for more than two decades. Her professional work and research has dealt with masonry, stucco and EIFS, "breathable" walls, energy efficiency, adhered brick systems, and Japanese housing models.
See More