Wealthy Choices: The Seven Competencies of Financial Success
ISBN: 978-0-471-45396-3
270 pages
November 2003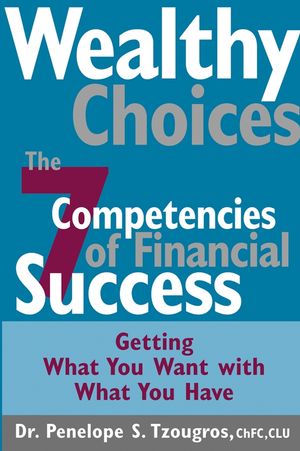 Praise for Wealthy Choices

"If you are at all interested in achieving financial freedom, you must read the powerful book, Wealthy Choices, by Dr. Penelope Tzougros. It will make you think about money in a different way and help you uncover some of the roadblocks preventing you from having a life of prosperity and abundance."
-Robert G. Allen, author of the New York Times bestsellers, The One Minute Millionaire, Nothing Down for the '90s, Creating Wealth, Multiple Streams of Income, and Multiple Streams of Internet Income

"I'm planning to give this book to my friends. It is important and will enhance their lives. . . . So many people I know don't have a handle on their finances, and it just boggles my mind that they don't even think about this for the future. I saw myself in so many of the examples, even though I thought that none of the situations would ever apply to me."
-Patty Wagstaff, first woman to win the title of U.S. National Aerobatic Champion and six-time member of the United States Aerobatic Team

"To many questions about money, Penelope Tzougros gives common- sense and illuminating answers. Most individuals would benefit much from reading this book."
-Jean-Marie Eveillard, Copresident, First Eagle Funds, and manager of several mutual funds

"Here is a truly helpful book on how to deal with our finances. Tzougros's years as a financial planner and sympathetic listener give her advice a special and convincing authority. If you're afraid of money, this book teaches you how not to be. If you're fortunate enough to have no serious money worries, you might enjoy reading this just for its good stories and sound, reassuring judgment."
-Lloyd Schwartz, Pulitzer Prize winner, NPR commentator, and author of Goodnight, Gracie
See More
Acknowledgements.
Introduction.
Making This Book Do Its Best for You.
Alphabetic List of Stories with Page Numbers.
Competency 1: Valuing.
Competency 2: Paying the Bills.
Competency 3: Losing.
Competency 4: Leveraging.
Competency 5: Dreaming.
Competency 6: Growing.
Competency 7: Gifting.
Notes.
Glossary.
Resources.
Suggested Reading.
Index.
See More
PENELOPE S. TZOUGROS, PHD, CHFC, CLU, is a Boston-based financial planner who brings to her work a rich academic background as a university professor, dean, and director of college theater. Currently, her seminars and weekly Boston radio show focus on the concerns of those juggling work and traditional, extended, and nontraditional families, as well as those anxious about retirement and those already luxuriating in a work-free life- style. In addition, she encourages those making a fresh start by volunteering as a guest teacher at Boston's highly acclaimed M.A.P. drug and alcohol rehabilitation program. She's committed to helping people make the best choices available to them no matter what their age or situation.
See More