E-book
Deploying Solutions with .NET Enterprise Servers
ISBN: 978-0-471-45527-1
464 pages
February 2003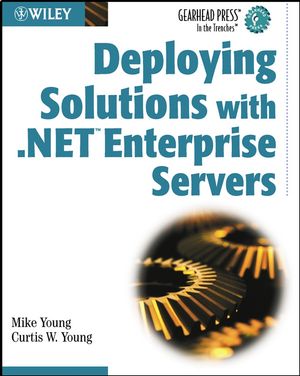 Shows how to deploy solutions for the entire .NET Enterprise Server family-from Exchange Server and Content Management Server to ISA Server and BizTalk Server
Presents practical, hands-on advice to assure that solutions are integrated and meet the needs of individual businesses
Covers integration of .NET servers with XML and ADO, including best practices
See More
Acknowledgments.
Introduction.
PART I: .NET Overview.
Chapter 1. Introduction to the .NET Framework.
Chapter 2. .NET Business Solutions.
Chapter 3. Role of .NET Enterprise Servers.
Chapter 4. .NET Services for the Development Environment.
Chapter 5. XML Integration with .NET Servers.
Chapter 6. Building .NET Components.
PART II: .NET Enterprise Servers.
Chapter 7. Exchange Server.
Chapter 8. SQL Server 2000.
Chapter 9. Application Center 2000.
Chapter 10. Commerce Server.
Chapter 11. Content Management Server.
Chapter 12. BizTalk Server.
Chapter 13. SharePoint Portal Server.
Chapter 14. Internet Security and Acceleration Server.
PART III: Enterprise Solutions with .NET Servers.
Chapter 15. Web Services with .NET.
Chapter 16. Building Enterprise Web Farms.
Chapter 17. Data Warehousing.
Chapter 18. Clustering .NET Servers.
Appendixes.
Appendix A: Visual Basic .NET Reference Guide.
Appendix B: The Role of Visual Studio .NET.
Index.
See More
MIKE YOUNG is Vice President of SofTouch, a training and consulting firm that specializes in Microsoft .NET Enterprise Server and Windows development. He designs and builds training courseware and has been an MCSE and MCP for more than seven years.
CURTIS W. YOUNG is President of SofTouch. A former CPA, Young has been designing courseware and training developers in Visual Studio and Microsoft BackOffice for more than ten years.

About Gearhead Press

Responding to the ongoing needs of IT professionals for current and reliable information on the latest technologies, Wiley Technology Publishing introduces the Gearhead Press titles. These books, written by accomplished trainers in their respective fields, focus on real-world examples and case studies to give readers the best information on leading topics.The In the Trenches imprint of Gearhead Press are fast-paced books written by fellow IT professionals who have been there and done that. In the Trenches books guide readers to proficiency and serve as practical, hands-on references after the initial tasks are accomplished.
See More