E-book
Ancient Science: 40 Time-Traveling, World-Exploring, History-Making Activities for Kids
ISBN: 978-0-471-46037-4
128 pages
April 2003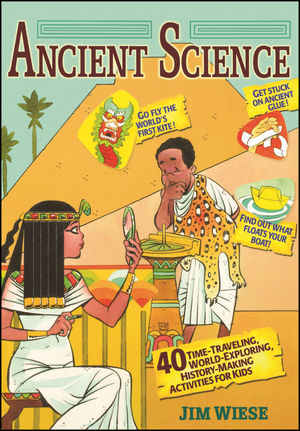 Dig into the science of ancient times and unearth amazing discoveries!
* Have you ever wondered where paper comes from, who made the first known maps, or how the ancient Egyptians were able to build the pyramids?
* Would you like to make your own sundial, discover how to detect earthquakes, or learn to write in hieroglyphics?
* Are you looking for great ideas for your next science fair project?


If you answered "Yes" to any of these questions, then Ancient Science is for you! From Greek lighthouses and Roman bridges to Chinese kites and Mesopotamian soap, you'll investigate some of the greatest scientific discoveries and the people who introduced them to the world. Dozens of fun-packed activities help you see for yourself how the earliest humans cultivated plants, why instruments make different sounds, how fireworks get their explosive power, and much more. All of the projects are safe and easy to do, and all you need is everyday stuff from around the house. So step back in time and take an amazing journey with Ancient Science!
See More
Acknowledgments.

Introduction.

How to Use This Book.

Being a Good Scientist.

Increasing Your Understanding.

Using This Book to Do a Science Fair Project.

A Word of Warning.

PART 1: SCIENCE FROM THE DAWN OF TIME;
THE FIRST HUMANS.

Project 1: The Stone Age.

Project 2: Make It Grow.

Project 3: Sweet Tooth.

Project 4: Sky Sign.

Project 5: Pop Music.

PART 2: SCIENCE FROM THE FERTILE CRESCENT: ANCIENT MESOPTAMIA.

Project 1: Scrubbing Bubbles.

Project 2: Free Wheeling.

Project 3: Where in the World.

Project 4: Money, Money, Money.

PART 3: SCIENCE AMONG THE PYRAMIDS;
ANCIENT EGYPT.

Project 1: Sticking Together.

Project 2: Pyramid Power.

Project 3: Measure Up.

Project 4: Keeping Time 1.

Project 5: Hieroglyphics.

PART 4: SCIENCE FROM THE CITY-STATES: ANCIENT GREECE.

Project 1: Keeping Time 2.

Project 2: The Sound of Music.

Project 3: Eureka!

Project 4: Diving Bell.

Project 5: Surprise Attraction.

Project 6: Knowing All the Angles.

Project 7: Measuring the Earth.

Project 8: A Nice Reflection.

Project 9: Seeing the Light.

PART 5: SCIENCE FROM REPUBLIC TO EMPIRE;
ANCIENT ROME.

Project 1: Seeing Better.

Project 2: Clever Clippers.

Project 3: Powerful Wheels.

Project 4: Stronger Structures.

Project 5: Stronger Materials.

PART 6: SCIENCE FROM THE FAR EAST;
ANCIENT CHINA.

Project 1: Flying High.

Project 2: Going Up With a Bang!

Project 3: Write On.

Project 4: Cool Treats.

Project 5: True North.

Project 6: Count on It.

Project 7: Earthquake!

PART 7: SCIENCE FROM THE AMERICAS;
AZTEC, MAYAN AND NATIVE NORTH AMERICAN.

Project 1: Sun Block.

Project 2: Paddle Along.

Project 3: Grow It.

Project 4: North and North.

Project 5: Sun Track.

Glossary.

Index.
See More
JIM WIESE is a science teacher and an educational coordinator for nonprofit organizations. He is the author of many popular kids' science activity books, including Roller Coaster Science, Rocket Science, Detective Science, Cosmic Science, and Sports Science, all from Wiley.
See More