Textbook
Understanding Physics, Part 4
ISBN: 978-0-471-46438-9
208 pages
March 2004, ©2004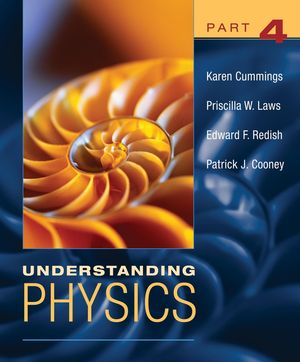 Understanding Physics is designed to work with learning strategies such as microcomputer-based labs and interactive lectures that ate increasingly being used in physics instruction. In doing so, it incorporates new approaches based upon Physics Education Research (PER), aligns with courses that use computer-based laboratory tools, and supports Activity-Based Physics in lectures, labs, and recitations. A set of related materials collectively known as The Physics Suite is available to support active learning in both the lecture and the lab.
See More
Chapter 34. Electromagnetic Waves.
34.1 Introduction.
34.2 Maxwell's Prediction of Electromagnetism.
34.3 The Generation of Electromagnetic Waves.
34.4 Describing Electromagnetic Wave Properties Mathematically.
34.5 Transporting Energy with Electromagnetic Waves.
34.6 Radiation Pressure.
34.7 Polarization.
34.8 Maxwell's Rainbow.
Chapter 35. Images.
35.1 Introduction.
35.2 Reflection and Refraction.
35.3 Total Internal Reflection.
35.4 Polarization by Reflection.
35.5 Two Types of Image.
35.6 Plane Mirrors.
35.7 Spherical Mirrors.
35.8 Images from Spherical Mirrors.
35.9 Spherical Refracting Surfaces.
35.10 Thin Lenses.
35.11 Optical Instruments.
35.12 Three Proofs.
Chapter 36. Interference.
36.1 Interference.
36.2 Light as a Wave.
36.3 Diffraction.
36.4 Young's Interference Experiment.
36.5 Coherence.
36.6 Intensity in Double-Slit Interference.
36.7 Interference from Thin Films.
36.8 Michelson's Interferometer.
Chapter 37. Diffraction.
37.1 Diffraction and The Wave Theory of Light.
37.2 Diffraction by a Single Slit: Locating the Minima.
37.3 Intensity in Single-Slit Diffraction, Qualitatively.
37.4 Intensity in Single-Slit Diffraction, Quantitatively.
37.5 Diffraction by a Circular Aperture.
37.6 Diffraction by a Double Slit.
37.7 Diffraction Gratings.
37.8 Gratings: Dispersion and Resolving Power.
37.9 X-Ray Diffraction.
Chapter 38. Special Relativity.
38.1 Introduction.
38.2 Origins of Special Relativity.
38.3 The Principle of Relativity.
38.4 Locating Events with an Intelligent Observer.
38.5 Laboratory and Rocket Latticeworks of Clocks.
38.6 Time Stretching.
38.7 The Metric Equation.
38.8 Cause and Effect.
38.9 Relativity of Simultaneity.
38.10 Momentum and Energy.
38.11 The Lorentz Transformation.
38.12 Lorentiz Contraction.
38.13 Relativity of Velocities.
38.14 Doppler Shift.
Appendix A. The International System of Units (SI).
Appendix B. Some Fundamental Constants of Physics.
Appendix C. Some Astronomical Data.
Appendix D. Conversion Factors.
Appendix E. Mathematical Formulas.
Appendix F. Properties of Common Elements
Appendix G. Periodic Table of the Elements.
Answers to Reading Exercises and Odd-Numbered Problems.
Photo Credits.
Index.
See More
Learn more about