Textbook
Core Concepts of Personal Finance
ISBN: 978-0-471-46544-7
456 pages
June 2003, ©2004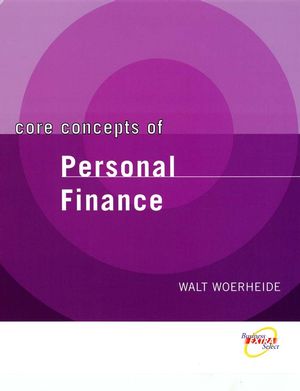 This text is the first personal finance text specifically designed using Internet resources as an integral and mandatory part of the course material. Students and instructors using Core Concepts of Personal Finance receive free access to The Wall Street Journal Interactive Edition throughout the duration of their course.
Personal Finance is an interactive teaching tool that teaches students the questions they need to ask themselves regarding personal finance and provides them with appropriate Internet resources to research, interpret the answers and make decisions about their personal finances.
As part of the Core Concepts Series, Core Concepts of Personal Finance can be adopted with Business Extra Select (www.wiley.com/college/bxs), a simple, seamless, online custom publishing process that allows instructors to combine the best business textbook resources from Wiley with other world class content and resources, from sources such as INSEAD, Ivey and Harvard Business School cases, Fortune, The Economist, or The Wall Street Journal, and much, much more. This Series combines the quality and effectiveness of Wiley Business publications with the flexibility to enrich the course with cases, readings, applications and other content. A Core Concepts text can be bound under one cover with any Business Extra Select CoursePack to create a custom-published book.
Select from millions of journal articles, cases, readings from periodicals, newspapers, and other respected publication in the Business Extra Select databases,
Combine with Wiley supplemental print and media products,
Include your own materials, links or notes, or request copyright clearance for additional material.
An editorially-selected CoursePack for Core Concepts of Personal Finance is available to be used as is, or can be modified to meet particular course needs.
Core Concepts of Personal Finance is priced at $40.00 Net. When built into a custom book combining the text with Business Extra Select content, the price of the book is $30.00 Net plus the prices of the CoursePack content, a saving of $10.00.
See More
PART I. BASIC ISSAUES IN FINANCIAL PLANNING.
1. Understanding the Financial Planning Process.
2. Financial Planning and Budgeting.
3. Managing Your Taxes.
4. Time Value of Money.
5. Managing the Liquid Assets.
PART II. BUYING ASSETS AND TAKING ON DEBT.
6. Borrowing on Open Account.
7. Acquiring Consumer Loans.
8. Buying and Selling Personal Assets: Houses and Cars.
9. Financing Personal Assets: Mortgages, Car Loans, and Car Leases.
PART III. RISK AND INSURANCE.
10. Risk Management and Property and Casualty Insurance: Automobile and Homeowner's Policies.
11. Insuring Your Life.
12. Insuring Your Health.
PART IV. INVESTMENTS.
13. Introduction to Investments and Fixed Return Investments.
14. Common Stock and Related Securities.
15. Investment Companies: Mutual Funds, Closed-End Funds, Unit Investment Trusts, and Investment Clubs.
16. Securities Markets and Market Mechanics.
PART V. PLANNING FOR RETIREMENT AND DEATH.
17. Planning for Retirement, Part I: Social Security and Pensions.
18. Planning for Retirement, Part II: Tax-Favored Programs and Personal Savings.
19. Preparing for Death: Wills, Trusts, Gift and Estate Taxes.
Appendix.
Index.
See More
Walt J. Woerheide is the Vice-President of Academic Affairs at The American College in Bryn Mawr, Pennsylvania. Prior to that, he held faculty and administrative positions at the Rochester Institute of Technology, University of Michigan – Flint, and the University of Illinois at Chicago, and served as a Visiting Scholar with the Federal Home Loan Bank Board in Washington, D.C. He has published in a wide variety of journals, including Journal of Financial and Quantitative Analysis, Financial Services Review, Financial Counseling and Planning Journal of Consumer Affairs, Journal of Financial Planning, Journal of Retail Banking, Journal of Institute of Certified Financial Planners, and Real Estate Issues. He has served as President of the Academy of Financial Services and the Midwest Finance Association. Dr. Woerheide's undergraduate degree is in mathematical-economics from Brown University, and both his M.B.A. and Ph.D. with concentrations in finance are from Washington University in St. Louis.
See More
Focus on practical approach to financial planning. Text discusses the real personal finance decisions students face and innovatively relies on web resources to provide students with the tools, information and skills to make these decisions.
Emphasis on Decision Making. Instead of the use of traditional subtitles in each chapter (e.g., alternative forms of housing,, performing home affordability analysis ), the text uses questions as the lead-in for each topic (e.g., should I rent or buy?, how do I bid on the property?)
An entire chapter is devoted to the critical topic of time value of money (TVM) and it is integrated into later chapters where appropriate. The solutions to many problems (i.e. How much Life Insurance Should You Have?) are presented through calculators that incorporate time value of money into the computations. Thus, students who have a general concept of what time value of money means but have difficulty doing TVM problems are still able to get through the material deal effectively with the impact of TVM.
Text is brief and applied. Instead of long narratives discussing terms and definitions, the text focuses on decisions that the student will be making during his or her lifetime, beginning with graduation and the selection of the first job. Each chapter has a theme of a person or couple needing to make decisions in that topic area. Key material is emphasized by its inclusion in the sample problems and the solutions to the sample problems.
See More
I liked the compact nature of the book.It asks common personal finance questions and answers them with strong detail. The web links are excellent tools to develop on-line course activities.
Al Eferstein
Lindsey Wilson College
See More
Instructors Resources
Contact your Wiley Representative
Find Your Rep

See More
See Less