E-book
The Special Events Advisor: A Business and Legal Guide for Event Professionals
ISBN: 978-0-471-46588-1
302 pages
May 2004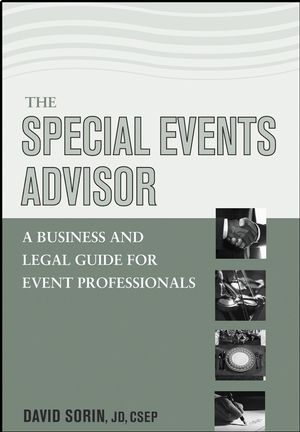 There's no dearth of books on the logistics of event planning, but not much has been published to address the legal and business issues that concern the thousands of companies that make up this industry. This book covers all the legal and business issues that special events professionals need to understand -- from contractual considerations to little-known governmental regulations with heavy ramifications. Ignorance of the law can prove very costly in an industry in which expectations must be met the first time, and in our ever-more litigious society, the need for this niche title is clear.
See More
Introduction.
Chapter 1: Starting an Event Business.
Chapter 2: Buying an Event Business.
Chapter 3: Partners and Shareholders.
Chapter 4: Financing: Working with Banks and Leasing Companies.
Chapter 5: Planning.
Chapter 6: Operating a Business.
Chapter 7: Client Service.
Chapter 8: Contracts.
Chapter 9: Employee Issues.
Chapter 10: Insurance.
Chapter 11: Labor Unions.
Chapter 12: Landlord-Tenant Concerns.
Chapter 13: Trucking.
Chapter 14: Intellectual Property.
Chapter 15: Accounting.
Chapter 16: Legal Liability.
Chapter 17: Ethics.
Chapter 18: Exit Strategies.
Chapter 19: The Last Word.
Chapter 20: Important Documents Checklist.
Appendix: Sample Documents.
References.
Index.
See More
DAVID SORIN, JD, CSEP, is an attorney and consultant to companies in the special events industry. He has been involved with many high-profile events, including the 1996 Olympic Games in Atlanta. He has been active in event industry organizations for many years, and has served as president of the International Special Events Society. He also speaks regularly at professional venues such as The Special Event, Event Solutions Expo, and the International Special Events Society's Conference for Professional Development.
See More