TNM Supplement: A Commentary on Uniform Use, 3rd Edition
ISBN: 978-0-471-46666-6
188 pages
September 2003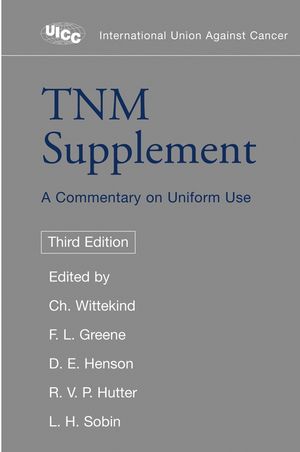 TNM Supplement, Third Edition promotes the uniform application of the TNM classification in cancer practice. The text of the Third Edition provides explanations and examples to answer many questions that arise during the daily use of TNM, particularly in unusual cases. It enumerates the recommended criteria for pathological classification (pT and pN) and contains proposed classifications for new tumor sites and types not yet part of the official UICC TNM system. Optional expansions of existing TNM categories are included for those needing to record more detail. An added feature is the "Frequently Asked Questions" chapter, derived from the TNM web site's Help Desk.
See More
Preface.
Acknowledgements.
Abbreviations.
Chapter 1. Explanatory Notes - General.
Chapter 2. Explanatory Notes - Specific Anatomical Sites.
Chapter 3. Site-Specific Recommendations for pT and pN.
Chapter 4. New Classifications Recommended for Testing.
Chapter 5. Optional Proposals for Testing New Telescopic Ramifications of TNM.
Chapter 6. Frequently Asked Questions About TNM.
See More