African Heroes
ISBN: 978-0-471-46672-7
168 pages
January 2005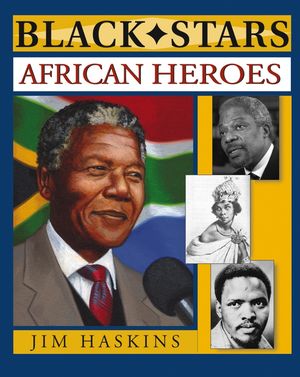 Meet the Greatest heroes of africa--from ancient to modern times

"The books in the Black Stars series are the types of books that would have really captivated me as a kid."
--Earl G. Graves, Black Enterprise magazine

Kofi Annan
Askia the Great
Bambaata
Behanzin Hossu Bowelle
Stephen Biko
Cetewayo
Constance Cummings-John
Imhotep
Kenneth Kaunda
Jomo Kenyatta
Khama
Sir Seretse Khama
Patrice Lumumba
Albert John Luthuli
Nelson Mandela
Menelik II
Moshesh
Mansa Musa
Kwame Nkrumah
Julius Nyerere
Nzingha
Piankhy
Rabah
Haile Selassie
Albertina Sisulu
Osei Tutu
Youssef I
See More
Introduction.
PART ONE: HEROS OF ANCIENT AND MEDIEVAL AFRICA.
Imhotep. 
Piankhy.
Youssef
Mansa Musa.
Askia the Great.
PART TWO: HEROES OF THE STRUGGLE AGAINST EUROPEAN INCURSION. 
Nzingha.
Osei Tutu.
Moshesh.
Cetewayo.
Khama.
Behanzin Hossu Bowelle.
Rabah.
Menelik II.
Bambaata.
PART THREE: HEROES OF THE TWENTIETH CENTURY.
Haile Selassie.
Jomo Kenyatta.
Albert John Luthuli.
Kwame Nkrumah.
Constance Cummings-John.
Nelson Mandela.
Albertina Sisulu.
Sir Seretse Khama.
Julius Nyerere.
Kenneth Kaunda.
Patrice Lumumba.
Kofi Annan.
Stephen Biko.
Further Reading.
Picture Credits.
Index.
See More
Jim Haskins, the general editor of the Black Stars series, is the author of more than one hundred books for young readers. His works include African American Entrepreneurs, which is part of the Black Stars series, and Black Eagles: African Americans in Aviation; he also collaborated with Rosa Parks on her autobiography, Rosa Parks: My Story. He has received many awards, including the Coretta Scott King Award and the Washington Post Children's Book Guild Award for the body of his work.
See More